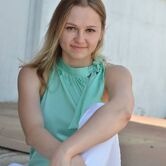 Hey Wikians,
I recently joined the Community Support Team at Wikia, and I'll be helping you with your problems and answer any questions you might have.
Just like Andrea, who takes care of the German Wikia community, I grew up in Germany and live in the US now. I'm here to help out all English-speaking users. Before joining Wikia, I worked for a career network called e-fellows.net in Munich. There, it was my job to take care of the online forum and community, a group of about 50,000 students and graduates.
Obviously, Wikia has a much larger number of users and many communities on different topics. Two of my personal favorites are the Game of Thrones and the Lord of the Rings communities – you see, I like dragons, swords and medieval stuff! Back in high school, my best friend and I even taught ourselves how to write in the Elvish script Tengwar, so we could send each other secret letters in class (we didn't have smartphones back then).
Whenever I am not watching, playing or discussing my favorite fandoms online, I like to cook, bake, and go to the gym. Is there anything you'd like to know about me? Ask me in the comments!
Want to stay up to date on the latest feature releases and news from FANDOM?
Click here to follow this blog.
Interested in learning more about community management on FANDOM?
Click here to view our community management blog.