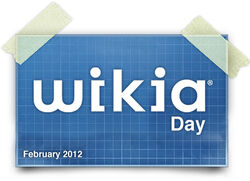 Last December all Wikia employees participated in our first-ever "Wikia Day" -- no meetings, no emails, no work -- just editing wikis all day long. It's a chance for us to get more familiar with the nooks and crannies of our website, root out pesky bugs, and to fall in love with wikis all over again.
December's Wikia Day was such a rip-roaring success that we decided to make it a recurring tradition. Last Friday we celebrated Wikia Day #2! Here are some highlights:

We're all quite excited with what we accomplished in just one day. In our office we have folks with all levels of wiki experience from Sannse (who made several hundreds of edits without breaking a sweat) to wiki newbie Patricia, who knocked out an awesome main page for the new The Stone Roses Wiki in an afternoon.
What project would you tackle if you set aside an entire day to edit on your favorite wiki? Which of our changes do you find most inspiring/interesting for your wiki?
Want to stay up to date on the latest feature releases and news from FANDOM?
Click here to follow this blog.
Interested in learning more about community management on FANDOM?
Click here to view our community management blog.