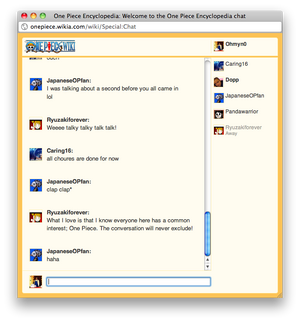 Howdy Wikia!
I'm Trevor (Ohmyn0 here on Wikia), newest member of the product team, and I have the pleasure of introducing a brand new feature that we've been building: Chat.
Currently wiki discussions occur over a long period of time via talk pages. The openness of this method is super helpful, but it doesn't provide the speediness that a modern online community needs. With chat, we aim to fill that gap. Already we've seen post-episode discussions happening on Glee chat, article architecture discussions in Muppet chat, and gamers helping each other solve problems in the Runescape chat.
Chat is still in its beta test stages, but we've already been blown away by the enthusiasm of some of our great communities who want it on their wikis, even though it's not a finished product. We've been having a lot of fun testing it out over the past week, and I personally have had the pleasure of chatting with a wide array of wonderful Wikians, from Gleeks to Runescapers.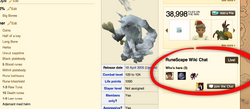 If you want to try it out, jump into our Community Central chat. Just click the "join this chat" button on the right side of any page (except the homepage) when you're logged in. Chat is currently being tested on a handful of wikis, ranging from the upcoming video game Brink to the ever-popular Twilight Saga Wiki to a Percy Jackson role-playing Wiki.
A big "Thanks!" to everyone who has helped us test and root out bugs so far. We've compiled a list of bugs and features that we will be addressing in future versions, including timestamps, emoticons, and general stability issues. Eventually, each wiki will have its own chat, but wikis who would like to test chat earlier can request it here. When we feel it is stable enough to be more widely available, we'll release it to Wikia Labs, making it an option for any wiki admin to enable as they wish. You can follow our chat development updates on our chat portal.
How do you think you'll use this new feature?
Want to stay up to date on the latest feature releases and news from FANDOM?
Click here to follow this blog.
Interested in learning more about community management on FANDOM?
Click here to view our community management blog.