Hello, SpongeyTube here. I have a quick question. How do I make my page smaller in the chatroom and the whole Community Central wiki? I kinda messed up the page my zooming it using my mouse.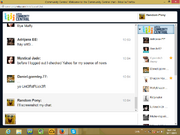 Also, if you want to know, I'm using Mozilla Firefox in Windows 8.
UPDATE: I FINALLY BEEN ABLE TO FIX IT THANKS TO SUMMERSPONGEFAN20.