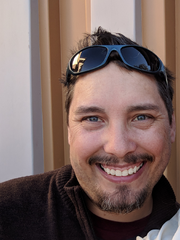 Hi everyone, I am the newest addition to the Community Support Team. I am thrilled to be joining the Wikia team as I have always hoped to be able to work in a computer related field doing what I enjoy. And yes, this means yet another Tim on the Wikia Staff (we're multiplying)!
I have been active on several wikis for about four years, both as an editor and an admin; you can also find me helping people out with the CSS and JS on their wikis. In March of this year I joined Wikia's VSTF and hope to smoothly transition to staff, so that I'll be able to help others in a variety of ways. I've made a lot of friends in the past 4 years editing on Wikia and look forward to making even more.
Although I have many interests, games and MMOs are my favorites; you'll probably find me in my off hours playing Aion. I'm a movie buff and enjoy all types of movies; I can often be heard quoting movie or TV show lines that coincide with the current conversation topic (I feel a little like DiNozzo from NCIS at times). I love a good book but can never find the time to sit down and read one - what are your favorite books or series?
Want to receive updates on the latest Staff blog posts? Then click here to follow this blog.