Here are the latest technical updates on Fandom. Keep in mind that our system updates happen every Tuesday and Thursday - today's notes are for tomorrow's site update. Also note that we change hundreds of tiny details every week, so these are just the highlights.
New Features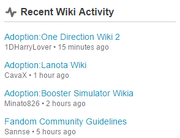 A number of right rail modules will be redesigned as part of Wiki Modernization. These include Recent Wiki Activity, Trending Fandom Articles, and Live Chat on wiki pages, and Forum Activity and Related Threads for Forum pages. Additional modules will be updated in the future.

Wikis that have customized their rail modules may need to make some CSS and/or JS updates to account for this new design. The new modules use .rail-module instead of the former .module. More details on CSS changes can be found at http://report.wikia.net.
Major Bug Fixes
We recently fixed a user profile link that was broken on the mobile skin.
Other Notable Changes
Recent mobile app updates are listed on Apps Technical Updates, and detailed site CSS-related updates can be found at http://report.wikia.net
To ensure text doesn't overflow the available space, the Discussions notifications bubble now says "99+" when more than 99 notifications are listed.
Questions? Comments? Feel free to leave them below. And if you have additional bugs to report, please send them to us via Special:Contact.
Want to be notified about technical updates when they are posted? Then click here to follow this blog.