Someone in freenode irc shown this to me a few minutes ago.
WARNING!! NSFW!! PROCEED AT YOUR OWN RISK!!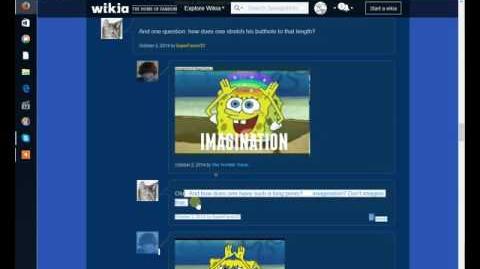 I HAVE NO RELATIONS WITH THIS PERSON AND THIS PERSON IS NOT ME! HE/SHE IS AN IMPOSTOR! DO NOT BE FOOLED!
I do not have any relations with the spongebob and disney fandoms, and i REFUSE to get paid to troll wikis by basically anyone, lest be a transsexual brony degenerate. Also, noone uses Goatse anymore; it is getting stale! At least be more innovative.
If you doubt it, try a checkuser on me and that impostor.
Ad blocker interference detected!
Wikia is a free-to-use site that makes money from advertising. We have a modified experience for viewers using ad blockers

Wikia is not accessible if you've made further modifications. Remove the custom ad blocker rule(s) and the page will load as expected.