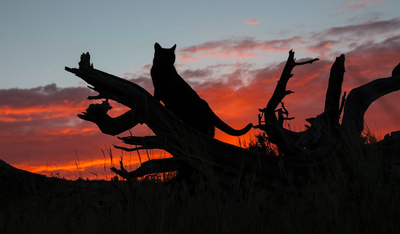 Hello, my name is Wolfblaze. A few months back, a user I know founded a wikia called WeAreWarriors,but now I am  an admin there.
WeAreWarriors is a Fanfictions and Roleplaying wikia for Erin Hunter's Warriors Cats book series, which is about four Clans of of cats that live in the forest, and the different generations of main characters. So far, it has four completed series, a series that just started, a completed book series about the founding of the Clans, some manga books, special editions, and field guides. So, about fifty or sixty books total.
Right now, we have three Clans for roleplaying, none of which are ones from the books. The Clans are called RockClan, StormClan, and CaveClan. All three of the Clans are roleplayed from time to time, but RockClan or CaveClan are probably the most active. We very rarely have fanfictions on this wiki, but if you would like, you are allowed to make them.
The wiki isn't really active right now, and we don't have many active users at the moment. As of now, we have 541 pages, 520 of which are not stubs. And all of the pages are in categories. Users without accounts are welcome to edit, but we do encourage people to make accounts.
We also have Chararts, which means blank images that can be filled in based on the description of your Roleplay or fanfiction character, and we also have a character project, which means we have a format that can be directly copied and pasted on your character's page, and then filled in, it includes an infobox. We also have a grammar and spelling project, which if for correcting grammar and spelling accross the wiki. (When I say 'project' I don't mean a seperate wiki, but a page on the wiki I am talking about)
If you have any other questions about this wiki, you ask me on my message wall there. Or, you could see the the Guide For New Users: http://wearewarriors.wikia.com/wiki/Guide_For_New_Users
If you would like to, check out the wiki: http://wearewarriors.wikia.com/wiki/WeAreWarriors_Wikia
Why Is tonight different from all other Nights? 00:14, May 17, 2016 (UTC)
Ad blocker interference detected!
Wikia is a free-to-use site that makes money from advertising. We have a modified experience for viewers using ad blockers

Wikia is not accessible if you've made further modifications. Remove the custom ad blocker rule(s) and the page will load as expected.