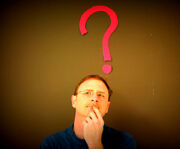 Did you know... we forget 90% of our dreams? And that Americans eat an average of 18 acres of pizza a day? Or that your heart beats around 100,000 times a day?
On Wikia, we are constantly digging up new information and statistics about our sites and community. The more we know about what's going on around us, the better we can help out. Here are a few insights we found this week:
The gender gap?
In January, an article came out that discussed the "gender gap" on Wikipedia, noting that less than 13% of its contributor base were women. It started an entire exploration of user demographics and discussions on why there aren't more female editors on Wikipedia.
Is that the case on Wikia? Sure, we've got our fair share of gender imbalances, but we found from our female user testers that most communities here are welcoming. Many of our features such as Top 10 Lists, Comments, and Achievement Awards help encourage people to share opinions, and not just edit someone else's work. This suits a wider range of people and encourages everyone to participate.
And, the very nature of Wikia wikis -- being highly focused on one topic -- means that many of our communities are in fact dominated by women. Twilight, for example is 61% female. Glee and iCarly are both more than 50% female, and many Lifestyle wikis such as Healthy Recipes (58%) and Vintage Dress Patterns (69%) are even higher.
Time spent on Wikia
We know from gathering data during big game releases and movie premieres that Wikia users spend a LOT of time on their sites. But what's the usual amount? So far in 2011 we've seen the average visit to Wikia is about 7 minutes.
Editors spend a lot more time on the site, and made a massive 68 million edits last year. Comparing edits last month to those a year ago, we can see a clear increase of around 30%. There seems to be a shift toward more edits on wikis based on Entertainment topics (an increase of 107% year over year) while Gaming and "other" grew more slowly with a 15% and 17% increase in edits.
Overall, monthly traffic for the first two months of this year are an incredible 33.3% higher than last year! A shout-out to Fallout, Fable and Pokemon wiki for fueling a lot of this growth with their triple-digit growth rates.
Skyrocketing wikis
Speaking of rapid growth... In the past year, we've seen quite a few stars rise out of nowhere.
Red Dead Wiki, with a game released in May, went from a mere 1,500 monthly pageviews before the release to a whopping 5.9 million. The League of Legends Wiki also ended up reaching nearly 6 million pageviews.
Comics and anime also grew. DC Universe Online reached 1.6 million pageviews -- a 17,000% increase, and the Spanish language Naruto Wiki grew from 157,000 to 2.3 million.
Glee visits went up tremendously, from 67,000 to 3.6 million. Harry Potter, Degrassi, Disney, and Lyrics wikis were also in the Top 100 Highest Growth Wiki list.
What causes these huge spikes? In the case of Glee, the TV show went from fledgling concept to a full-blown network hit -- and fans flocked to the wiki to discuss characters, episodes, and yes, songs. Gaming releases like Red Dead Redemption and League of Legends clearly caused those wikis to grow rapidly. And in one case, the trigger was a political controversy. The Guttenplag wiki sprung up around a plagiarism accusation that turned into a political scandal and drew many new visitors to Wikia.
But there are other reasons why wikis grow. For some, it's a matter of persistence -- a dedicated founder who adds content day after day and recruits new users to join. For others, making the wiki more inviting and welcoming new visitors can go a long way.
How do you grow your wiki? Share your secrets in the comments below.
Want to stay up to date on the latest feature releases and news from FANDOM?
Click here to follow this blog.
Interested in learning more about community management on FANDOM?
Click here to view our community management blog.