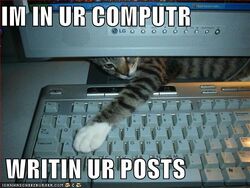 Over the last year, we have been working to build up the staff blog and make it
the
place for information and news on all things Wikia. There were 76 staff blog posts in 2010, compared to just 23 in 2009. And we've gone from around 6,000 pageviews in January last year to almost 70,000 in December! That's a whole lot of people visiting to find out more about what's happening on Wikia.
So we've been thinking a lot about the coming year and how we can keep improving the blog. Here are some of our ideas so far:
Posts about
One change we want to introduce is topic specific blog listings. This will let you follow just technical updates (or whichever other group interests you) rather than the staff blog as a whole. Or, of course, you can continue to follow the whole blog.
This week we added javascript to prevent comments to old blog posts (thanks to Devilmanozzy for this suggestion), which should help combat spam and keep comments on the most recent and relevant posts. We will also close comments on staff blogs once each conversation is complete to help organize and moderate the blog.
So the next question is: what else would you like from this space? Are there topics you want us to cover in the next year? Or do you have any ideas for spreading the word about the staff blog? Please let us know in the comments below.
Update: We created the new staff blog blog lists you can follow for specific news (we will be tweaking if needed):
Want to receive updates on the latest Staff blog posts? Then click here to follow this blog.