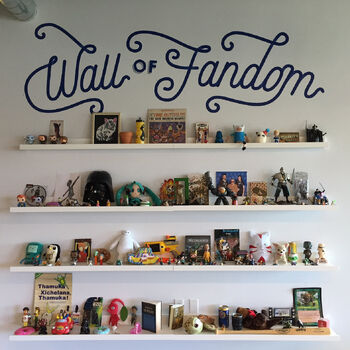 Update! See below for the answers to the puzzle!
Wikia is written by all sorts of fans. From Marvel fanatics to Trekkers to genealogy enthusiasts and more, everyone can find a place for their passion in the Home of Fandom. One of the best parts of working at Wikia is knowing that, like you, the staff in our office are also superfans. The fact that we're all fans of something is a big part of what motivates us to make Wikia such an awesome place for fans.
Here in our San Francisco office, we display our passions on the "Wall of Fandom." This is a big wall at the front of the office that's covered in items that we all chose to represent the things we love. My contribution is the plushy chihuahua on the second shelf, representing my love of my dog Daisy and her furry friends.
Many of us like to style our own workspaces in a way that makes us happy to show off our own fandoms to our co-workers. So I thought it would be fun to introduce you to some of Wikia's staff and see if you can match them to their desks! If you guess right, you'll earn some epic bragging rights.
Here are four of Wikia's team members:
| | |
| --- | --- |
| | |
| Miranda is our office manager in San Francisco. She is the one who makes sure our office of around 130 people runs smoothly. That usually means doing 130 different things for 130 different people all at once! Sounds like someone who could do with a TARDIS on her desk; she could do with the extra time! | Daniel is one of our Ad Networks Managers. His job is to find new advertisers and work with them to make creative and interesting new ads. After all, the best ads are the ones you ​want to see. Could he be the one with the plushy Thor's hammer? Magic 8 Ball says… maybe? |
| | |
| Tor is a Director in our Engineering Team. He's been on Wikia for almost 10 years, so he knows deep things about Wikia and how it works - and about Star Trek too, of course. But none of our desks contain anything about Star Trek, so which one is his? | Amanda is an Associate on our Community Development Team. She helps bring new entertainment communities to life by creating content that can help the communities grow and thrive. Now entertainment could be any of the desks, but to me, who is more entertaining than the Fonz? Could that be hers? |
And next we have the desk toys. Try to figure out who owns which!
| | |
| --- | --- |
| | |
| 1: What links a TARDIS, Frozen and a set of minions? Other than them being on the same desk as a memento of one of the most awesome movies ever, of course. And no, I don't mean Teen Beach Movie 2! | 2: A combination of Thor, Yoda and Captain America. There's something of a heroes thread going on here. A small collection, but a carefully chosen one. |
| | |
| 3:The Fonz and Ryu are facing off on this desk. I think it's obvious who would win in a fight, but who would win in a battle of the cool? Another non-contest in my opinion - go go Fonzie. | 4: One of these is not like the others... A collection of Marvel and DC heroes and villains. And the odd one out, Sharky, the mascot of the San Jose Sharks hockey team. |
I'll share the answers on this blog later this week, so make your guesses here and keep this blog on watch. And bonus bragging rights for anyone who can guess what's on my desk!
The Answers!
So here are the answers!
Desk one belongs to Amanda. The TARDIS was a bit of a red-herring ;)
Desk two belongs to Tor, or maybe Thor!
Desk three is Daniel's complete with his own bubblegum machine.
And Desk four is Miranda's. Full of awesome characters.
So that's:
Amanda,
Tor,
Daniel,
Miranda.
So from what I can see, those that got it right are Zmario, DerkaiserQAQ, Nanaki, and Vuh. Congratulations to you all!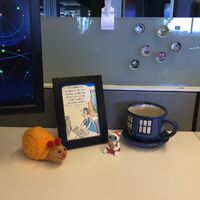 And as for my desk, I also have a TARDIS... but in the shape of a mug. I also have a robot Hello Kitty, a happy snail and some bottle cap magnets with pictures of Daisy inside - of course ;)
Thanks to everyone who played. I hope you enjoyed this bit of fun, and getting to know some Wikia staff that you don't often see!
Want to stay up to date on the latest feature releases and news from FANDOM?
Click here to follow this blog.
Interested in learning more about community management on FANDOM?
Click here to view our community management blog.