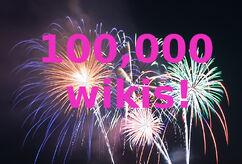 Wikia is celebrating the creation of its 100,000th wiki community!
We have come a long way since Angela Beesley Starling and Jimmy Wales created 'Wikicities' in 2004. It has been an amazing journey, and Wikia now has communities on topics ranging from Sewing to Pop Tarts, Call of Duty to FarmVille, and Glee to Geek Feminism.
A couple of significant milestones...
Wikianswers was our first wiki and started in the Fall of 2004. Wikianswers now has approximately 520,000 questions and 148,000 answers.
Wikicities already had 100 wikis in 2005 when the popular wikis Uncyclopedia and Memory-Alpha decided to join us.
With nearly 1000 wikis in 2006, we changed our name from Wikicities to Wikia.
WoWWiki, EverQuest 2 Wiki, and FFXIclopedia joined Wikia in 2007.
By Fall 2008, 1 million registered users called Wikia home. A year later, Wikia hosted nearly 50,000 wiki communities.
During the Fall of 2009, LyricWiki, with almost a million song lyrics, joined Wikia.
In 2010, Quantcast ranked Wikia as the 71st most popular site, with more than 31 million people visiting every month.
With nearly 300 wikis being created a day, Wikia is excited for many future recording breaking days. Thank you to all of our users, community admins, and founders for the amazing content they create and expand each day.
Want to stay up to date on the latest feature releases and news from FANDOM?
Click here to follow the FANDOM staff blog.
Interested in learning more about community management on FANDOM?
Click here to view our community management blog.