Wikis on Wikia exist for many different reasons. Some are collections of information such as recipes or sewing patterns, some are chronicles of books, TV shows or movies and others are tips on how to play the latest popluar video game. There are also wikis though that exist to serve and support a particular social cause. This blog post will highlight some of these advocacy wikis that can be found here on Wikia.
The Sustainable Community Action (SCA) wiki is a wiki for anyone interested in sustainability, with a strong focus on connecting people with resources in their local community. The wiki aims to promote the idea that "Sustainability isn't just something for experts. It's about everyone's quality of life and we all have a part to play." The wiki was started more than 5 years ago and now has over 2,000 articles and includes information on at least 90 countries. All of this was created by just 150 editors, lead by Philralph. The wiki's articles are organized in a number of different ways, including by location and topic. Topic areas include (but are not limited to): climate change, food, low carbon communities, gardening, recycling, local resources and community involvement. The wiki also has a number of great resources including the idea bank (a place to post ideas on living more sustainably), a news section, themed forums, and even a village cinema (a place to post and watch short green videos). The SCA wiki is a great green resource, so stop by and check it out!

The SF Homeless Wiki exists as a online resource for social workers, non-profits, government agencies, homeless individuals, and the general public. The wiki was founded by homeless service advocates as a means to provide readily accessible online information concerning homeless services such as food distribution, shelters, drop-in centers, medical clinics, and much more. Prior to the wiki, one of the main homeless service resources available was the annually produced San Francisco Volunteer Legal Services Program's Homeless Advocacy Project (HAP) Resource Manual. While a valuable tool, the exhaustive directory was difficult to transport, use, and make available to a large audience. The SF Homeless Wiki works to create a similarly detailed resource, but in an online format that can be updated at any time and viewed by anyone.

The wiki now provides details on over 700 agencies in 50 service categories. It is helping to foster a closer relationship between those working to fight homelessness by providing a forum for discussion and news updates on important policy issues. Wiki community members keep track of media stories affecting the homeless, as well as blogs and e-mail discussion groups. The group hopes the San Francisco wiki can serve as a template for other cities looking to share resources and help the homeless. This hope has begun to be realized, with wikis such as the Tampa Bay Homeless wiki and LA Homeless Resource wiki forming.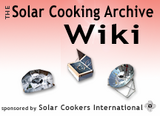 The Solar Cooking wiki is dedicated to promoting knowledge about, and use of, solar cooking internationally. For the past 3 years, the wiki has been a resource for methods, tools, recipes and a multitude of facts on solar cooking. Solar cooking involves using the sun's energy, rather than traditional fuel sources, to cook food. According to the wiki, "solar cooking is the simplest, safest, most convenient way to cook food without consuming fuels or heating up the kitchen." The wiki provides extensive information on how to build and use solar cookers, as well as information about local organizations who can help users acquire them. The wiki's 1,600+ articles have been translated into multiple languages, and visited by users throughout the world. News, events and resource guides are kept up-to-date by contributors who are led by Tom Sponheim. Stop by to learn more about solar cooking in your community.


Got a wiki you find impressive? Let us know and we will consider it for an upcoming blog post. Happy editing and thanks to all wiki communities for all of your great work!
Want to receive updates on the latest Staff blog posts? Then click here to follow this blog.