Hello Wikians,
Four years ago to almost the day I joined Wikia, and in my time here I've survived product releases, MediaWiki upgrades and many, many hours of working on templates. Today I'd like to say thank you to all those that have helped me learn here - whether it's a blog comment, a message on my wall or an email, I've appreciated the support, openness and enthusiasm within the Wikia community. I've grown a TON here and now am ready for my next adventure. My last day as Wikia Staff will be this Friday September 27th.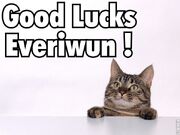 I've been continually impressed by the dedication of Wikians to their communities and amazed by the support I've received from both staff and users. Over the years I've built out our webinar series, created how-to videos, re-written more help pages than I can remember and spent many hours working internally to share the voice of Wikians. I plan to take all of with me as I move on to a new community.
I wish you all many years of happy editing and thanks again!