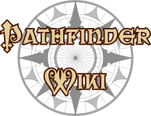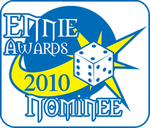 Big shout out to the
Pathfinder Wiki
who has been nominated for the annual
ENnie Awards
in the website category. The Annual Gen Con EN World RPG Awards (or ENnie Awards) are annual, fan-based awards for role-playing game products and publishers hosted at Gen Con.
[1]
In
Yoda8myhead's own words
, "...PathfinderWiki wouldn't be a shadow of the resource it is now without the contributions of dozens of active editors. Give yourselves a huge mug of
Cayden's
best brew and have a friend pat you on the back." We here at Community Central agree!
This is a great example of how wikis can really grow and flourish with the work of dedicated, friendly and helpful users working together.
So how can we help them win? Vote here. Public voting runs through July 25th, so be sure to go there and vote before then! You can also help by spreading the word and encouraging others to do the same. Use your personal blogs, forums, Twitter, Facebook and other social networks to share the good news, ask others to show their support and vote for this exemplary wiki!
The winners will be announced at Gen Con on August 6th. Best of luck Pathfinder Wiki!
Want to stay up to date on the latest feature releases and news from FANDOM?
Click here to follow this blog.
Interested in learning more about community management on FANDOM?
Click here to view our community management blog.