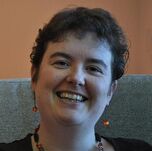 A big part of what makes Wikia awesome is the people and the community. Since I started here as a community manager about a year and a half ago, I have had the pleasure of working with Sannse, who has taught me a TON about wikis, community and Internet memes. Sannse recently had her five-year anniversary of working at Wikia. To celebrate this milestone, we asked her a few questions to share with our readers:
Q: Congrats on your five-year anniversary on Wikia! How did you originally get involved with wikis?
A: Back in 2002, I used to read Wil Wheaton's old blog, and he linked Wikipedia - http://www.wilwheaton.net/mt/archives/001116.php You can tell from the post that Wikipedia was still new and strange to geeky ex-Star Trek kids, let alone the rest of us. My first edit was to correct some bad grammar in a policy page.
Q: What are some of your favorite wikis?
A: Uncyclopedia, of course. I love Dr. Who, and always use the Sausage article on that wiki as my favourite example of why Wikia is great. Where else can you have a full article specifically on sausages as they relate to Dr Who? Our Brant is another favourite, because it's a well done wiki on a local subject, which is one of the things Wikia is perfect for. I've also got a soft spot for the Star Wars Fanon wiki, because it was one that had some problems when I first joined Wikia but is now is a great wiki with a solid community.
Q: What's a wiki tip you would offer to a new user?
A: Give it a go! It's usually easy to find a small error or typo to fix, or a fact to add, and doing some of those is a great way to get started on a wiki.
Q: What's your favorite wiki expert shortcut?
A: Because I'm moving around many wikis, I often use interwiki links. You can link to any wiki on Wikia by adding w:c:wikiname:pagename. For example, I often link to [[w:c:community:User:sannse]] to use my profile here on different wikis. I also use Firefox and love their bookmark shortcuts. I've set up my browser so that I can just type 'w' then a wiki's name to quickly go there.
Q: What tips do you have for new founders?
A: Communication is the key. That means both talking to new people and giving them ways to talk back to you (blogs are a great way to do that), as well as talking about your new wiki to friends or on forums related to your topic.
Q: What's with all the "bacteria" on your desk?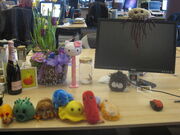 A: In a past life I worked as a bacteriologist in England. I loved growing bacteria, and looking after my collection of all sorts of pretty microbes. These plushies remind me of that, and I love how accurate they are. Well, I admit the real ones don't have cute googly eyes.
Q: What are you excited about seeing on Wikia in 2011?
A: Shiny things :)
Thanks Sannse for this insight and for all the great work you do on Wikia!
Readers, if I asked you these questions (maybe minus the bacteria one), what would your answers be?