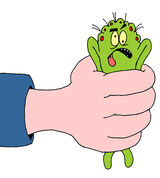 The past year at Wikia has been a busy one with lots of new features, tools and community members! We are continually working to make Wikia a fun place to meet, collaborate and build wikis with people who love the topics you love.
While we always work to develop solid features, we also regularly take dedicated time to review and resolve reported bug issues. This past week our Engineering Team focused on resolving over 100 bugs, while others in the office used the time to talk about ideas for future features on Wikia.
The community has been an amazing resource for finding and reporting bugs across the site, and we greatly appreciate this. If you run into a bug on Wikia, please let us know. We will continue to review and resolve bugs as quickly as possible, so thanks for all of your help and patience!
Some of the bugs fixed this week include:
The "source mode" insert image button now functions properly.
The Category Select tool has been improved and re-written.
Diffs now function properly on Answers sites.
Reviews and article comments are no longer lost when pages are moved.
Linking external URLs via the Rich Text Editor will now automatically give you the correct tab in the dialog box.
We have modified the color of the MyHome activity feed to better match dark themes.
Deleted pages will no longer appear on the Followed pages box on user pages.
Ctrl-clicking on a lightboxed image will now allow you to open it in a new tab.
We have made HTML and CSS changes across Wikia to bring us closer to web validation standards.
Links in an image caption now work properly in the Rich Text Editor.
New skin themes are now compatible with right-to-left languages.
Link suggestions now work properly when using Chrome.
Avatars on Answers have improved formatting.
Interwiki links have been removed from Special:WantedPages.
And many others...
Want to stay up to date on the latest feature releases and news from FANDOM?
Click here to follow this blog.
Interested in learning more about community management on FANDOM?
Click here to view our community management blog.