Exciting news! Tomorrow we will be rolling out a new, more customizable version of the personal toolbar -- the bar that floats at the bottom of your screen as you surf around Wikia. We hope it's going to make it a lot easier to get to all of your favorite buttons and links.
The new toolbar is going to give you a ton of new choices. For example, you can now add tools which were not a part of the first version, such as edit, delete, move, random page, and create a page. Whereas before you could only access your chosen links from the My Tools menu, now you can add tools directly to the toolbar -- much like adding a favorite website to the bookmarks toolbar in your web browser.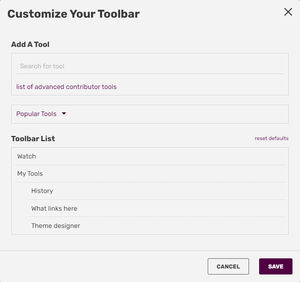 Logged out users will see the two default buttons, Share and Follow. Logged in users will also see this, but they have the added benefit of the My Tools folder and a new Customize link -- replacing the old "Edit My Tools" link. If there are too many items to fit on the toolbar, a "More" menu will appear with extra tools.
How can you get started with the new toolbar? Click the customize icon to add, re-arrange, or re-name the links on your toolbar. The My Tools folder and Customize icon are the only parts that can't be renamed, moved, or deleted -- they will always be at the bottom of the toolbar.
Tomorrow we are also going to tweak some of the button names. The Save button will be renamed Publish, which gives the button a more accurate reflection of what it really does: publish your edits to the live wiki. This should help with confusion we saw in user testing about whether saving will make an edit live, or edits will be saved as a draft for later publishing. Similarly, the Move button will now be the Rename button. This is a more clear way of helping people change the name of a page rather than making them think they are actually moving it elsewhere.
If you encounter any bugs or problems with these changes, be sure to let us know here in the comments section or send us a message.
Want to receive updates on the latest Staff blog posts? Then click here to follow this blog.