Last spring, we released chat for wikis and so far over 12,000 communities have started using it! With so many active communities using chat on a daily basis, we have gotten a lot of great feedback and requests for improvements.
Starting this Wednesday, we will be releasing an update to chat on all English wikis. It's already live on a couple of select communities as well as Community Test (so feel free to test it out there).
What you will see in the update
Improvements to blocking
We've changed the way users are banned from chat to make it more like blocking on a wiki. With this release, the "bannedfromchat" user right will no longer exist. The new blocking system will be as follows:
Kick - We created a new action called "Kick" for admins and chatmods. Kick severs the offending user's connection from chat, forcing them out of the chat room. They will be able to rejoin chat right away; the goal of this tool is to provide a way to give a user a warning or to remove someone who may have a connection issue.
Ban now works like block - Admins and chatmods can set time limits and list a reason for banning a user from chat. All bans are recorded at Special:Log/chatban and are displayed on the banned user's contributions and masthead. Bans can also be controlled directly from the log or contributions page as well.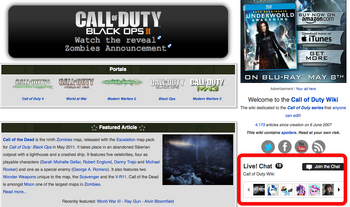 Transition - All currently kickbanned people will be transitioned to the new system over the next few weeks, and the right of "bannedfromchat" will be permanently retired. All current chat bans will transition to 6 month bans; those bans will automatically expire in November, 2012.
You can add chat anywhere
You can now add an entry point to chat on any page you would like to see it by using the <chat /> tag.
All wikitext links to Special:Chat now also open in a new window.
Other tweaks & technical improvements
New entry point design - you can now see all of the users who are in the chat before you enter.
Server performance improvements - we have made the Chat server more stable so there should be less lag and fewer stability issues.
Support - We've dropped support for IE7 (list of all supported browsers can be found here).
We hope you enjoy these updates. Once we are ready for international releases, I will update here. We will be continuing to test on select wikis over the next couple of days so that we can ensure everything will go smoothly on Wednesday, so please let us know if you run into any issues. Happy chatting!
Update
5/9/12 11am PST - The new chat updates are now live on all English wikis.
Want to receive updates on the latest Staff blog posts? Then click here to follow this blog.