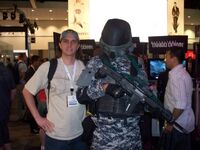 This past week in Los Angeles was the annual
E3 Expo
, showcasing the hottest new video games upcoming and currently on the market.
Joe
and
Nic
from the Wikia Gaming team were lucky enough to attend. Some of the highlights from their
blog
:
"...I knew about the new Splatterhouse was that it would be gory, and let me tell you, it certainly delivers. This game is certainly not for the squeamish. The game has a slight cel-shaded effect which gives it a cool look. The demo had me walking from room to room slicing enemies. As mentioned, the game is very bloody - as you're wasting enemies, the floor, walls, and even you are covered in blood from the massive carnage. The gore does give quite a sense of badass-ness as you play." - Splatterhouse_(got_blood?), Joe
"As many people have probably already read and heard about, Xbox Live along with Sega is planning on releasing many classic Dreamcast games including Sonic Adventure, Crazy Taxi, and many other of greatest Dreamcast games ever...Recently at E3, I got the opportunity to play this game on the Xbox 360. It had been years since I had played this game - but it was still just amazing as I had remembered it. While the graphics hadn't been enhanced or re-mastered in anyway to make the game more "HD-friendly," the graphics still looked decent, which is pretty good considering the game came out twelve years ago. Joe - on the other hand got the opportunity to play Crazy Taxi again and he said that it also stood the test of time well." - Blast from the Past - Dreamcast invades Xbox Live, Nic
"I had no idea what to expect when I got my hands on the Crackdown 2 demo. I had heard a few things about the game before and how it involved Freaks, but I wasn't completely sure how it would play out. Do you want to know how this game plays out? This game plays out completely awesome." - Hands on with Crackdown 2, Nic

You can read the full blog posts on the E3 Expo Wiki blog.