As I mentioned a few weeks back, we were lucky enough to attend this year's Wikimania conference in DC last week. The conference was packed with talks, presentations, discussion and all around wiki excitement - especially since the English Wikipedia passed it's 4th millionth article during the conference. All in all, just under 1000 attendees from over 80 countries attended. There were over 100 formal talks and many informal conversations about the current and future state of wiki projects.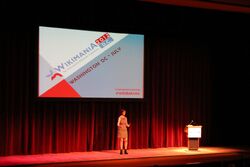 The conference was kicked off with keynote addresses from Mary Gardiner, co-founder of the Ada Inititative (and Geek Feminism Wiki contributor) and Jimmy Wales (founder of both Wikipedia and Wikia). Both of their talks focused on how to bring more diversity into Wikimedia projects, including attracting more female editors, editors from developing countries and those who may not be as technical advanced. This topic emerged in multiple talks, as Wikipedians have noticed a lack of diversity in their projects, and are striving to change that.

Increasing the success rate of new editors and increasing editor diversity is one area that the Wikimedia Foundation is currently focusing on. They are working towards this in a couple of ways. In one talk I attended, Wikimedia staff presented on testing they with warning templates (such as deletion notifications), changing their language to be a bit less formal and more friendly. They found that making the templated messages friendlier and less filled with advanced wiki language, new editors responded more positively. You can check out their full findings here. Another initiative is called the Teahouse, which is a place where new editors can come to ask questions about contributing, the community and best practices. All of these intiatives are very exciting to hear about, and I personally believe they are good first steps in helping keep new editors in participating in Wikimedia projects.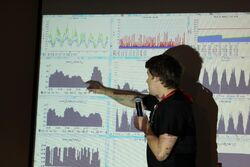 Another exciting aspect of the conference was to hear about the new products being developed in various wiki communities. Our own Danny and Tomek presented on their work building the Message Wall and Chat. Audience members were very excited to learn more about these products, and to know that they are available for use from our public SVN. We also heard from Brandon Harris, a Senior Designer at the Wikimedia Foundation, about the new products they are working on. These include a visual editor, a new notification system and user to user communication tools, as well as a page triage tool. Throughout the conference, I thought time and again about how Wikia and Wikipedia have faced similar issues but found unique solutions to them, such as WikiLove and Achievements, Teahouse and Admin Support. Seeing new solutions to old problems is always eye-opening and inspiring, and I believe that both sets of communities have a lot of knowledge to share.
And last but not least, was the Wikia Pizza Party! About 200 folks gathered at Famous Luigi's for pizza, drinks and conversations about Wikimania, Wikia and wikis in general. We all had a blast meeting Wikia editors in person, as well as spending time with the greater Wikimedia community.
Here are some snapshots of the evening and conference. If you have any questions about other sessions, please ask them below!
Want to receive updates on the latest Staff blog posts? Then click here to follow this blog.