If you haven't noticed, Wikia is quite an international place. With wikis in 226 languages, we think it's time to cheer on our international wiki communities which are growing so quickly. Topping the ranks, with an impressive 1000% growth in traffic in 2009, are Spanish Bleach, French Shaiya, Russian Fallout, German James Cameron's Avatar wiki and Polish GTA.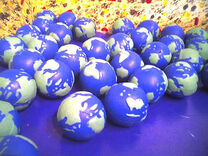 Overall, Spanish and German language wikis have experienced tremendous growth recently with active users across the 10,000 Spanish wikis increasing 35% since December 2009. Que Bueno! One of the most stellar Spanish wikis has been WikiRespuestas, an answers wiki, which has almost 3 million monthly pageviews and more than 50,000 questions (with more than 50% answered)! There are currently more than 6,000 German wikis, including Drakensang 2, which has seen explosive growth in weekly pageviews from less than 500 in December, 2009 to over 142,000 last week.
Much of the growth is due to the great work of our international staff and helpers. Wikia helpers are volunteers that encourage communities by providing support, advice, and practical assistance in the right language. This includes assisting wiki founders to improve search engine optimization, building up forums, and translating new features and help pages. Thanks to our helpers for all of their hard work! We're currently building a French helper team and searching for volunteers to join this.
A bit of a quiz for the community here on international wikis:
Which language is the newest to Wikia?
Which languages are written right to left?
Which topics have wikis existing in the most languages?
What is the top wiki (by traffic) in Chinese, Finnish and Vietnamese?
Want to stay up to date on the latest feature releases and news from FANDOM?
Click here to follow this blog.
Interested in learning more about community management on FANDOM?
Click here to view our community management blog.