Day 2: Saturday, April 25th, 2015
Synopsis
You know it's a good day when it starts off with a giant chocolate muffin, a granola bar and a carton of orange juice. (Vegas...am I right?)
Now, let me make this clear real fast. I had texted Margie, our contact in Vegas, about a panel we planned on attending that day.
Me: Is there a chance we can get reserved seating for the WWE panel today? I have a feeling it'll be pretty packed.
Margie: Absoluetly!
Me: Great!
I did not expect to be texted right after finishing brekfeast that morning, especially since the next event we were planning on didn't start for another hour or so. 
Margie: When are you planning on coming today?
Me: In about an hour. That's when our next panel starts.
Margie: Allright then, but if you come within the next couple minutes, we have a suprise for you.
I honestly had no idea what that meant. But I had a really good hunch.
We got there, and Margie pulled us into the back area where celebrities would be doing photo ops in an hour. Another Wizard World executive was there, along with a videographer from Comicbook.com. (His role, I'm sure, was to be there when the suprise happened and document other happenings around the Con throughout the day.) Margie had apparently caught on to the text I had sent the previous night and had made it so that I could be the first person to meet Dean Ambrose and Roman Reigns. 
HO. LY. CRAP. THIS IS ACTULLY HAPPENING.
I've been a pro wrestling fan for years, and have attended a few WWE live events in the past. Heck, I even saw Ambrose and Reigns as members of The Shield two years ago - in the ring for a match, no less. But this was totally different. I almost fangirled. 
Apparently, the energy I was pouring out made the other Wizard World executive, Patrick, turn to the Comicbook.com videographer and say, "We gotta get an interview with this kid!" It was a standard reaction promo, but I was so excited for the opprotunity I was being handed that I didn't much mind it.
Then when the two came through the curtains...ermagerd.
It's one thing to see someone you admire on TV or a YouTube video. It's another to see them live in the same building. But it's the best feeling in the world when they walk up to you and make you the center of their attention. Even if it was only for a second, and even if they were only doing it because it was a standard photo op: walk up, take picture, walk away.
Ambrose actually asked me how I had got there, and Reigns looked down at my exclusive Wikia VIP badge and said, "Dude, that's awesome!"
I had such a hard time containing my excitement through the whole thing. Even the photo that Margie posted via Wizard World's instagram had people saying that it was hard to hold it all in. And they were totally right.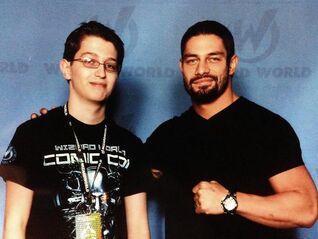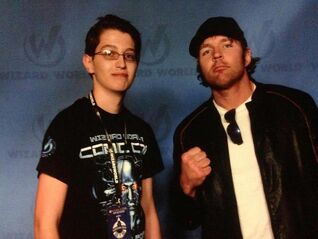 The first panel of the day was originally going to be one that analyzed the anthropology of both Star Wars and Star Trek. But for some reason, the host of the panel was nowhere to be found. So we waited in line for the Q&A panel for Doctor Who star Arthur Darvill, but then Margie pulled us aside and showed us to our VIP seats before the doors opened: front row center. Now 
that's 
VIP.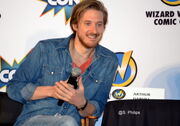 I actually asked Arthur what the most uncomfortable costume he ever had to wear was, and he told a story about when he went camping when he was eight years old and wore a horny devil costume. With a sign around his neck that said "I'm a horny devil." I LOLed. 
In all the excitement, I hadn't forgotten the WWE panel later in the day. Again, we got front row center seating, but that was the only similarity. When the two of them came in, it was like being at Monday Night RAW all over again. Cheers and chants of "ROMAN REIGNS" went on for a good few minutes. Then I asked then another question. Well...I asked Roman a question.
Afterwards, I was so drained from all the energy I had spent that day that I decided to call it a night early. There were other events we could have gone to, but I thought it best to pack it in and relax the rest of the day.
Plus my feet still hurt from all the walking. That never helps.
NAVIGATION