Day 3: Sunday, April 26th, 2015
Synopsis
Sure, I could have gone with something different for breakfest on the second morning. But I was like NAH. Another muffin sounds good. Actually, make it two muffins. Enough sugar and fruit and I'm good to go.
The convention was schedued to close up around 5pm that day, compared to the 8pm closing times the previous night. In this case, it opened at the same time, but we, along with the rest of the VIPs, got inside a half hour early. An artist from the many who had come to showcase their work wanted to meet with me early so as to do something. It turned out that he was a scketch artist, and his work ranges from anything from comic book characters to fandoms that nobody has heard of. 
Plus, he was a funny, older Japanese fellow, and who doesn't love funny, older Japanese fellows?
I told him that my second middle name was Aragorn, and in about 2 hours, he whipped up a fantastic pencil drawing and handed it to me for free. Wow.
We only had one panel that day, but it was perhaps the most interesting one there (in terms of content and making you think rather than cheer for every Q&A answer). It adressed the ideas of several "gambling supervillians," mainly relating to ones who took great risks in crimes they undertook. With the news breaking about the new Jared Leto Joker announced just two days prior, everyone was mostly interested in the Joker and things surrounding how Leto might function in the new Suicide Squad film.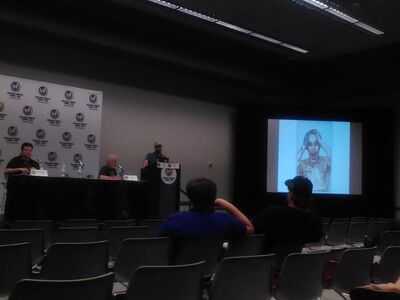 Just when we thought that we might be done, we were pulled aside to the ConTV booth. ConTV serves as a Wizard World version of Netflix with shows, panels and other content added to it as an exclusive to those who attend or subscribe to the service. We were greeted by one of the owners of the whole thing - the WHOLE of Wizard World - who ran me through an improvised interview that, like the other one the previous day, served as a promotional bit for the company, but because I was looked at by several employees and cosplayers, I couldn't resist.
Also, I was pushed into a scenerio where I kinda had to choose what strange thing I might cosplay as. I said a Tauntaun because I was put on the spot.
I'm totally doing it.
It was at this point that I realized that I had won the Cadillac of all prizes at Wizard World. I was looked at by staff members as an extremely lucky person and by other VIPs as a really privileged kid to have a clearance higher than even they had. I was very fortunate to have been selected for this, and I really am grateful for everything that Wikia and Wizard World did to make this trip one I'll remember for a long time.
I'd like to give a few shoutouts to the people at the center of the whole deal: Brandon, Christy and Vanessa from Wikia, Patrick and Margie from Wizard World, and my mom for putting up with me for three days straight. You guys made this possible, and I can't thank you enough for that.
I hope to do more for Wikia in the future! Good Hunting! ShatterClub|Message Wall
OTHER LINKS:
NAVIGATON