Websites are fun but you have to find the good ones!
Crazy people make websites that are rude and not very fun. You have to notice that and not go on their website.
DONT GO ON IF
-SWEARING
-BULLYING
-PERSONNEL STUFF
-RUDE WORDS
-HARASSEMENT
WAY MORE TOO!!!
Here is some ideas for fun and good websites 
Club penguin
club penguin is a game where everyone is penguins but can still talk like people. You can meet friends, explore your island, dress up, make your house a home, play games to earn fake club penguin money which you spend on items, adopt pets (puffles). If you really like the game upgrade to a member. members can adopt more puffle when a regular can only adopt 2 (red and blue), have a house, buy clothes and have more fun! its only a few real dollars but it is worth it! I have this game and i am a member and this is my favourite website! Sometimes rare penguins come on the island and you can earn stamps. Partys happen every few wekks for a long time. Coming up is Star Wars where penguins can live and dress up like them. The last party was Monsters University and it was fun!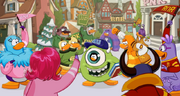 heres a few that are fun... just look at them on google and see.
Girls go games= games
Webkinz= animals
Poptropica= adventure in different worlds
moshi monsters= cute monsters in worlds
pottermore= you can be Harry Potter and play the movie but with you
Family channel= games, tv shows, stars news
akinator= the guessing game
American girl= play in a world with other girls and play games to earn coins (need doll)
Build-a-bear= games
Build-a-bear-ville= world where you are you can you talk to people and have fun
Ad blocker interference detected!
Wikia is a free-to-use site that makes money from advertising. We have a modified experience for viewers using ad blockers

Wikia is not accessible if you've made further modifications. Remove the custom ad blocker rule(s) and the page will load as expected.