Comments

7
IF YOU SEE A PERSON NAMED SMILE THE DOG CONTACT DDR-STAR7
hi I'm smile.jpg (smile dog) and I meet a girl in chat called DDR STAR7 and she was nice but the first time she see me she believed me but now she does it:
DDR-STAR7:hello smile
smile the dog: SPREAD THE WORD
DDR-STAR7:you are not smile irl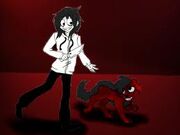 smile the dog:believe you me how should I do to prove
DDR-STAR7:hmm sing jeffs song
smile the dog: ok...
DDR-STAR7: ...
smile the dog: hey it's murder go to sleep this is your fault you you choose this path pay with blood.
DDR-STAR7:I'm so sorry for what I did forgive I believe you
and since then, she believed me that I smile please come and chat with me anytime if you dare * smiles *
Ad blocker interference detected!
Wikia is a free-to-use site that makes money from advertising. We have a modified experience for viewers using ad blockers

Wikia is not accessible if you've made further modifications. Remove the custom ad blocker rule(s) and the page will load as expected.