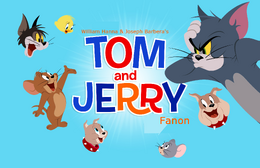 Hey, I'm creating an new fandom named
Tom & Jerry Fanon Wiki
, it's an wiki which you can create your own T&J fan characters and spinoffs. But I'm not good with create wikis, so I'm decide give it away to some Wikia admin user (who, in fact, it is a
Tom & Jerry
fan).
In the fanon wiki, the main canon characters are the same characters, like in the canon series: Tom, Jerry, Spike, Tyke, Nibbles/Tuffy, Yakky Doodle/Little Quacker, and Butch, but with other characters added on it, that is, the Hanna-Barbera funny animal characters, such as Huckleberry Hound, Pixie & Dixie and Mr. Jinks, Yogi Bear, Hokey Wolf, Chopper Dog (Yakky Doodle/Little Quacker's best friend on his solo TV cartoons), Top Cat, the Hillbilly Bears, Secret Squirrel, Atom Ant, Grape Ape, Mumbly (who comes back to his heroic appeareaces, after many more), etc. The (possibly) only main/major canon humans in the fandom are: Ranger Smith (who, in some spinoffs, could be Tom's owner) and Dick Dastardly (who could be Tom and Jerry's main nemesis, when they join forces).
Here are three of the spinoff ideas:
Tom & Jerry Wacky Races - An revival of the well-know comedy series, Wacky Races, which Tom, Jerry, and the other main canon characters complete in many car races around the world, with Tom, Butch, and Mr. Jinks in The Cat-Movile (the same orange junky car that Tom use in Tom and Jerry: The Furry and the Furrious), Jerry in the Speed-Mouser (a parody of Speed Racer's car), Spike and Tyke in the Doghouse Motorcar (an car with the appearance of a doghouse), and the infamous Dick Dastadly & Muttley (who also will becoming T&J characters) in the famous Mean Machine. (the rest of the cars can be decided)
The Mouse from H.U.N.G.E.R. - Spinoff of the 1967 short of the same name, it focuses on Jerry, as an secret agent of the H.U.N.G.E.R. Agency (led by Yogi Bear), fighting aganist dastardly villains such as Tom Thrush, Dick Dastardly, Tin, Pan and Alley, and many more.
The Cat and Mouse Dectetives - Spinoff of The Tom & Jerry Show (2014), which it's, in fact, a revival of The Cat and Mouse Dectetives shorts. Some episodes can be compilations of shorts produced for The Tom & Jerry Show, and others (the mayority of the episodes) can be completely original to the series.
If you're interesed on the wiki, write it in the comments section below, and I'm could give you.