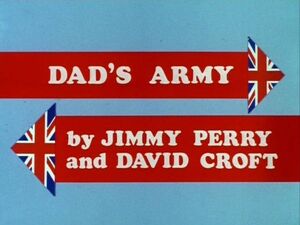 Greetings fellow Wiki users. I'm TARDIS2010 lead Admin at the
Dad's Army Wiki
and I am here today to inform you all about the wiki.
Dad's Army is a classic British sitcom which ran on the BBC from 31 July 1968 – 13 November 1977 and produced 9 series & 3 Christmas specials along with 2 feature films, one of which you may have come across as it was released this year.
Dad's Army was set in the fictional south coast seaside town of Walmington-on-Sea, during the Second World War. Alternating moments of gentle character comedy with broad slapstick, it recounted the misadventures of the local voluntary defence force (or 'Home Guard'), consisting of men who are too old or 'unfit' for military service.
As it stands the wiki has 230 article but only two active contributors so we'd love it if some more people could come over to help grow and improve the wiki, regardless of if you're a longstanding fan, or you've never seen the show, we'd love you to join the wiki and get involved.
Thanks for taking the time to read this post, and I hope to see you soon.