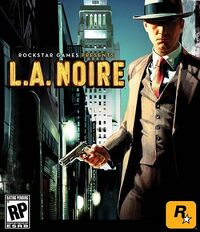 Hang on to your seats, Wikia gamers. Rockstar, the company behind
Grand Theft Auto
and
Red Dead Redemption
, is releasing L.A. Noire on May 17. The game is a dark, gritty take on 1940's Los Angeles, where players work their way up from beat cop to detective as they solve historical high-profile crimes.
To celebrate, we're giving away five free copies of the game -- you can find out how to enter the contest here. While you're at it, cruise around the comprehensive L.A. Noire Wiki for more information about the game. The community is doing a great job of cataloguing everything noteworthy, from character bios and case descriptions to an expanding list of featured locations. In fact, the wiki had more than 1.3 million page views and 4,000 edits before the game even came out!
The Wikia community is really fired up about L.A. Noire, and everyone is getting involved. Cocktails Wiki devoted an entire page to classic drinks that any character from the game would slug back, Easy Crafts Wiki featured a handy guide to the fashion of that era, and the Entertainment Wiki published a fascinating discussion on the evolution of television crime dramas.
If you're excited for the release, or if you've seen anything interesting while patrolling the streets, please leave a comment below.
Click here to receive updates on the latest Fandom contests and giveaways.