Hiya cx
My name is Ciecie.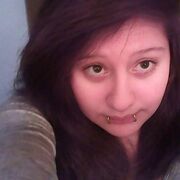 The picture is me. c:
I am band obsessed. c:
I'm Seventeen.
My favorite shows (not including anime) -
The Vampire Diaries, Supernatural, The Originals, Charmed, Roswell, Buffy: The Vampire Slayer, Angel, My Little Pony, ect.
My favorite anime -
Shugo Chara!, Wolf's Rain, Special A, Naruto, Bleach, Fairy Tale, Sword Art Online, Kaichou Wa Maid-Sama, ect.
My favorite video games -
Kingdom Hearts, Final Fantasy, Spyro, Dark Cloud, Suikoden, Sonic, Mario, ect.
My favorite bands -
Within Temptation, Black Veil Brides, Sleeping With Sirens, Falling in Reverse, Ghost Town, Alesana, My Chemical Romance, Blink 182, Bowling For Soup, Simple Plan, Fall Out Boy, Evanescence, Fit For Rivals, Blessthefall, Rise Against, Blacklisted Me, ect.
Whalep now you know a bit about me. c: