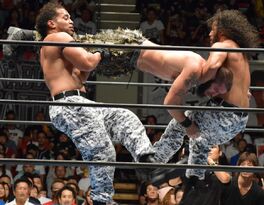 Hello wikians/ Fandom users! I'm Team69Roll and I would love for everyone to know about the Puroresu System Wiki.
The Puroresu System Wiki is about the Japanese Professional Wrestling in which is called Puroresu.
About the Wiki
 The Puroresu is a wrestling style developed in Japan. The puroresu term comes from the Japanese pronunciation of "professional wrestling" (プロフェッショナル・レスリング Purofesshonaru resuringu), in which is shortened to puroresu. The term became popular and growing among the English-speaking fans due to Hisaharu Tanabe's activities in the online User community and in which can be done by both men and women that called "Joshi" The Puroresu style combines together the experiences of Shoot Style Wrestling, American Southern Wrestling, Sumo, MMA, Hardcore and Lucha Libre. The Result is a high-flying, fast-paced, breath-taking action, crowd brawling and most on working ground holds and strikes, sometimes in deathmatch using light tubes as a weapon and rearely explosions in which can drive in 3 styles:
Strong Style
The strong style that started in Japan in the mid 70's in which the result is a ground working holds and kicks and multiple strikes like MMA in which was developed by Antonio Inoki and now in our current days this legacy is being continued by Shinsuke Nakamura.
Royal Road
   The Royal Road in which term in Japanese is called "Odo" (王道 Ōdō) in which was started by The Giant Baba, Royal Road is a style based on the Southern American style wrestling in which is a slower paced, crowd brawling, a big fighting spirit and drawn out, an intense finishing sequences.
Japanese Deathmatch
   The deathmatch is an American concept in which the Japanese Deathmatch legend Atsushi Onita, Abdullah The Butcher, The Sheik and Terry Funk, who started to develop it in FMW into a different style and techniques in which results in the use of foreign objects such as light tubes, chair, ladders, tables, kendo sticks and more, blasts in which was banned expect in some promotions with likes of FMW, Fire Pro Wrestling and even against Atsushi Onita's own and bloody matches.
Joshi
   Joshi is professional wrestling done by female wrestlers in Japan which they are called "Joshi" (女子 Joshi). It was started in the end of 60's by the Matsunaga Brothers in AJW and in which was developed by The Beautifull Pair (Jackie Sato and Maki Ueda). In which became growing into our days and even the Joshi competing with men including sharing cards or events. In which it's style results in a ground working holds, high flying, brawling and high impact move seen in men's puroresu.
Content, future, objective and ways of help
I am making a wiki about this topic because I'm a real fan of it and I love the topic and I want to share with others the much as I know about it. 
People want a place to stay and so people that do love Puroresu can be a good place to start, also with freedom and people want to show their knowledge and they are welcomed to do so.
Right now, I currently did the main promotions but now we are making the indies and we can't do this without your welp. In the future, I tend to make the greatest community about Puroresu of all time in where everyone can know about Puroresu. You can start to contribute by updating something or completing the rest of promotions by adding the best as you can, the best as you know about the topic.