The Diva Girls.
We are making videos, websites, and more. we also have a youtube channel, soon by chrismas their will be at least 100 videos to watch. we hope you'll like it!
Girls should be happy who they are. this is a great girls place!
What do  us diva girls like?
for girls who likes dolls like moxiez bratz barbie monster high and more like liv dolls + polly pocket!
we like bratz,they are the best. they have the new bratz now!
we like barbie their very pretty
we like monster high they are cool
we like polly pocket they are fun to play with
we like liv dolls their eyes look a little real1
we like moxie girlz they are like bratz but look more younger.
Hope all the girls be happy! thanks!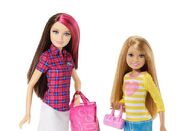 diva girls! are you a diva girl?
do you want know if you are a diva girl? just go to google and find the quiz we made!
Is being a diva girl bad or good?
it really means that being a person who can sing, or they are a true star or just being cool and fabulous 
your a diamond diva! by The diva girls!
Bye Bye!