I know that Cold War (post-Korea/pre-
Vietnam
) uniforms don't necessarily make a huge splash in collector arenas, but to me, this is the most honored item in my collection! First, a little back story: My father, who is now 82 years old, enlisted in the Army in 1954, and after basic training and AIT, was assigned as a medic with the 4th Armored Division at Fort Hood,Texas. My dad was then transferred to 5th Corps at Fort Leonard Wood Missouri, and was assigned again as a medic with the 63rd Engineer Brigade Combat. In 1956, the 63rd EBC was activated and after riding a troop train from Ft Leonard Wood to New York City, the Brigade boarded the US Navy Ship Simon Buckner and sailed to France before proceeding to Bremerhaven, Germany and eventually Bad Hersfeld by truck for Operation Gyroscope, relieving the 5th Engineer Brigade Combat. They then were transferred as a brigade to 7th Army. My dad spent the next three years in Germany before they were deactivated and he returned to the United States in 1959. My dad remained at Fort Leonard Wood as a medic with an anti-aircraft battalion until his enlistment ended and he was transferred to the inactive reserves. Upon returning home to Needham, Massachusetts in 1959, he packed up is Ike jacket and all of his uniforms and stored them at his parents house. Years later his mother, my grandmother, simply threw everything in the garbage! My dad will be coming to visit me and my family here in Reno at the end of September, and I'm coming to grips with the fact that this will most likely be the last time that I see my father alive. I am just now learning about his military service, as he has never really spoken about it. Perhaps because he was a peacetime veteran and never served in combat or for reasons I may never know. Regardless I am indescribably proud of my father and his service, as he has always been an inspiration to me and is the reason that I chose to serve. In honor of my dad's cold war service, I am precisely recreating his Ike jacket as it would have looked the day that he took it off and packed it away in 1960. I'm utilizing all original components, including a theater made 7th Army patch and period correct E5 chevrons. The Ike jacket is a 1946 pattern that has never had insignia sewn on it. This will be my gift to my dad at the end of September. The only thing I'm lacking are two 63rd engineer Brigade Combat enamel clutchback DUI's for the epaulets on the Ike. These have been difficult to locate. If anybody has a set that they would be willing to sell me, I would be unbelievably grateful! This is my dad, at 23 years old. Behind him are engineers from A Co. of the 63rd EBC building a class 60 float bridge near Schweinfurt, as they repair bridges destroyed by allied bombing more than ten years earlier.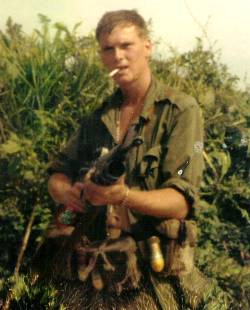 Ad blocker interference detected!
Wikia is a free-to-use site that makes money from advertising. We have a modified experience for viewers using ad blockers

Wikia is not accessible if you've made further modifications. Remove the custom ad blocker rule(s) and the page will load as expected.