| | | |
| --- | --- | --- |
| " | Feuds are never about hate, feuds are about pain. | " |
| | ~ Olivia de Havilland | |
I wanted to talk to you guys about the new Ryan Murphy show, FEUD. In case you don't know, FEUD is an American anthology TV-show about real feuds. The first episode just premiered and it's already making buzz, so I decided to share to you guys:
Reasons Why You Should Watch FEUD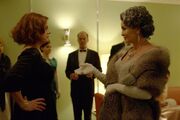 * Bette Davis and Joan Crawford's rivalry was legendary, one of the most iconic in Hollywood history. Now you may be thinking: well, so this is just a bland dumb show about two people and their lives? It's much more than that though, it goes deeper into what actually means being an actress in Hollywood in the 60s, having to battle sexism and ageism and how those problems still are present in the 21st century.
The cast is gold: Jessica Lange gives a stellar bitchy performance of our dear Joan Crawford and Susan Sarandon portrays Bette Davis, a more down to earth performance. The other cast features pretty reckognizable names, like: Stanley Tucci, Jackie Hoffman, Kiernan Shipka, Kathy Bates, Catherine Zeta-Jones, Sarah Paulson, Judy Davis, and many more.
Ryan Murphy (AHS, American Crime Story, Nip/Tuck, Glee, Scream Queens) is the creator of the show and the writing is stellar and, while it has a comedic edge to it, it also shows the relatable characters of Joan and Bette, and the crazy society we still live in today.
If you are not familiar with Bette or Joan and don't want to watch this season, Season Two shows a whole lot of promise, retelling the tragic divorce of the Royal couple, Prince Charles and Princess Diana, one year before the latter died in a car accident.
That are some of the reasons you should stick around to watch FEUD. Hope you watch and enjoy it.
And if you want to join our community, here's the link !