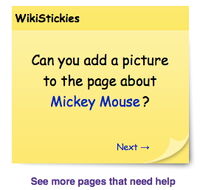 We're launching a new feature on My Home today called WikiStickies.
The idea originated from a common experience we hear from readers and new editors. A reader finds a wiki, gets really excited, wants to help out --- but isn't sure where to start. WikiStickies helps to answer that question. The feature uses the familiar metaphor of a "sticky note" to point contributors toward pages that need their help!
Right now, WikiStickies shows off three kinds of pages:
Articles that don't have any pictures
Brand new articles, which often need to be expanded
Article titles that are linked to, but don't exist yet
You can browse through a selection of questions right on the My Home page, by peeling up a sticky note to see the next one. If the WikiStickies on My Home doesn't give enough options, then you can click on "See more pages that need help", and go to a special page that shows off all the pages in those three areas.
The WikiStickies feature that we're launching today is the first step in a larger project to help guide contributors to the places where they can be helpful. The next step is creating your own WikiStickies!
We have a bunch of ideas about how to expand the WikiStickies concept, and make it a part of your editing experience -- and we'd like to hear from you about it. Once you've had some time to play with the feature, let us know what you'd like to see in the next stage of the project. What kind of WikiStickies would you want to create? Where would you like them to appear? If you've got ideas... leave us a note!
Want to stay up to date on the latest feature releases and news from FANDOM?
Click here to follow this blog.
Interested in learning more about community management on FANDOM?
Click here to view our community management blog.