I'm Stanley, and it has been a busy day for me! I'm the Mobile Product Manager at Wikia, and today I am happy to announce not only the release of the My Wikia iPad App, but also the second version of our Game Guides app!
The Backstory
Back before Wikia was focused on Mobile, Federico, now our Lead Mobile Developer, had an idea to make an app that would give gamers quick and easy access to the rich information produced by Wikia's awesome editor community, anytime and anywhere. Federico made Wikia Game Guides as a weekend hack and the Product Team decided to launch the app thinking it would at least get some valuable feedback.
Over 300,000 users downloaded Wikia Game Guides in its first year. This may not be impressive when comparing with heavy hitters in the app world, but for an experiment and Wikia's first app on both Android and iOS, Game Guides was a great proof of concept. Another interesting statistic was that the percentage of active installs (people who kept Game Guides installed on their devices) was hovering at around twenty percent. That's definitely not a number to write to mother about. However, with that volume of downloads, we received a flood of feature requests, bug reports, complaints (well deserved), and to our delight, many words of encouragement. Through all of the feedback on the initial Game Guides app it was crystal clear users liked it! Our marketing team calls it "strong demand."
Needs
As we analyzed the reviews from the App and Google Play stores, a few prominent themes that surfaced. Users wanted to favorite game guides to be easily accessible on the home screen. The previous version of Game Guides had a home screen that displayed a non-customizable list of thirty-seven popular video game wikis (we are aware that thirty-seven is a pretty random number). If someone wanted to go to the guide for Fallout Wiki, he/she would have to scroll down the list to find it. Let's call this problem, Favorite Game Wikis.
Favoriting was linked to another common issue. Although many people loved the fact that they could browse and search for information from a variety of Wikia video game communities in a single app, many wanted information for video games that were not (yet) included. The reason I say "yet" is because in order to be included in the app, Wikia Community admins had to have curated categories to be picked up by the app. Of course we understood that not all Wikia Community admins will curate categories for Game Guides so we had to figure out a way to allow people to access information despite. Let's call this problem, More Games.
The most common request in the App Store and Google Play was undoubtedly bookmarks. People were finding extremely helpful content in Wikia's video game communities but wanted to save the content as a reference for later use. There was not a single week that went by without at least one person asking for bookmarks. And yes, you guessed it—we'll call this problem, Bookmarks.
Solution: The New Wikia Game Guides App
Wikia's Mobile Team took this defined set of user needs as the foundation for the new Wikia Game Guides app. We also set team goals. Knowing gamers want to find information as efficiently as possible, we challenged ourselves to create highly functional, thoughtful design based on the differences in iOS and Android usage. Each of the Mobile Team members happen to have completely different personal phones (from an iPhone 4S to a Galaxy Note) and have become increasingly annoyed at app developers taking shortcuts by presenting the same exact user interface to different platforms (the most obvious example: having a "back" button on an Android app even though all Android phones have "back" buttons built-in).
To tackle this challenge, we hired Android and iOS developers and embarked on some solid market research. Looking at the Android and iOS developer guides and apps (across a variety of topics ranging video games to lifestyle), we observed that each organized and displayed information in effective and beautiful ways.
We took our favorite elements in each and debated how best to weave them together in long whiteboarding sessions. We progressed through wireframes, visual mocks, and development. All along there was great collaboration between the developers, designer, and myself. Check out the results: this is a pursuit to deliver on our community's desires as much as it was a labor of love - we're gamers too.
Ch...ch...ch...ch...changes!
Favorite Game Wikis
The new Game Guides home screen has been redesigned for user customization and quick navigation. It features a sliding carousel to display featured Wikia Community game guides. Wikia's top five game guides are displayed as default when you trigger the app for the very first time. You can manage this list to showcase your favorites in opening the carousel. Each time you swipe to highlight a game, the scope of search and bookmarks change to reflect your bookmarks in the highlighted game from the home screen. Tapping on a Wikia Community game guide tile allows you to browse and discover - in case you don't know exactly what you want.
Your favorite Wikia game bookmarks are also conveniently available in a navigation panel that you can slide out on any screen. Finding your favorite game guides is now easy as cake.
More Games!
"Can you please add Minecraft Wiki?!"
"You should add like...Dragon Ball Z Wiki. Help the nooBz out there lol."
For those of you who are requesting certain Wikia game communities be included in Game Guides: your prayers have been answered. You are now able to search for any video game —from Dragonvale to Elder Scrolls—and add it to your home screen carousel. A major difference in the new app is the ability to browse content that has not been curated by a Wikia Community admin or staff member.
Tapping on categories for both curated and non-curated guides will open lists of articles in the selected category. Not only that, we've added a cool new feature that will allow you to rank the articles in trending order (most user page views in the last week). Your fellow gamers are probably be looking for the exact same information as you, so this will prove to be extremely helpful. And remember, if you know exactly what you are looking for, use our improved article search feature. To learn how to customize your game guide, check out this help guide.
Reading Experience
The article reading experience in the old version of Game Guides is lackluster to say the least. Improving this experience has been a labor of love for Jakub, our very own "skin doctor," who along with Federico, refactored our mobile skin (yes, the same one that you see on your smartphone), so it could be reconfigured for many different applications such as this one. Using a modified version of the mobile skin automatically gave us a number of advantages like faster performance, the ability to tap on a single image to effortlessly swipe through all of the images on an article, and related articles. Additional tinkering led to several new features for Game Guides, including the ability to toggle between sans serif and serif fonts, adjust the font size, and justify the text layout, which does wonders for user accessibility.
The team also took the time to make a number of subtle enhancements to address important challenges that are often overlooked. For example, to deal with the inevitable lag when loading content from the web, we applied sensible animations to screen transitions to make the experience as seamless as possible.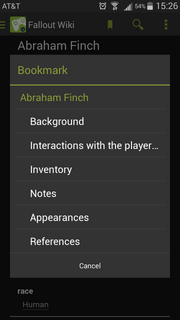 Bookmarks
We took the most popular feature request one step further. Not only do we now allow you to bookmark articles and categories, so they can be conveniently opened from your home screen or navigation panel, bookmarked articles are now saved for offline use. Offline bookmarks can also be synced with the web each time you open Game Guides or manually if you prefer, in the app's settings. We can just imagine what current Game Guides users are saying: Finally!
Community
The Game Guides project began as an experiment; an experiment that has been embraced by many gamers despite its rough edges. This time around, aside from simply smoothing those rough edges, we want to make sure that the communities who generate this rich content receive the credit they deserve. In addition to providing tools to help Wikia Community admins efficiently curate content for Game Guides, each guide has its own "About" screen to allow Game Guides users (not just avid "Wikians") learn about the amazing communities that make this app possible. A Wikia Community's "About" screen will contain a link to the Wikia Community wiki and display the main image and synopsis from the Special:Promote page. If you're a Wikia Community game admin make sure your Special:Promote page is updated. Game Guides is another stage for you to shine! Check out our Game Guides help page for more details.
Many Thanks
Many thanks for letting us share the story of Game Guides. We, the Mobile Team, have been truly enjoying the entire app development process. It has been a unique and rewarding challenge to balance the needs and wants of Game Guide users from the perspective of the consumer and the wiki guide curator, maintaining the integrity of user generated content, and meeting our personal team goals. One important thing to note is that we're in it for the long haul. Despite having made a laundry list of improvements, we fully expect to get feedback from users like you and make even more improvements to continue to make Game Guides all it can be: the ultimate vehicle for introducing Wikia's rich user generated video game content to the masses.
If you're a game wiki admin, you can make sure that the Special:GameGuidesContent and Special:Promote pages on your wiki are ready for action. We are hosting a webinar on Friday that will walk you through how to use and customize your Game Guide App, so register now to join us. If you're a contributor to a game wiki, keep rocking it. And for everyone out there, spread the word about Game Guides and the awesome community it took to bring it to life :-).
Want to stay up to date on the latest feature releases and news from FANDOM?
Click here to follow this blog.
Interested in learning more about community management on FANDOM?
Click here to view our community management blog.