Greetings Wikians!
Welcome to another addition of our "A Day in the Life" series. Each month we focus on a day in the life of a Wikia staff member in order to give you a better understanding of what goes on in the Wikia office. Last month we followed a day in the life of a VSTF member. While they don't work out of the Wikia office, they're still a vital part of our Community.
Can you believe it's been a year since we've started this series? It's occurred to me that since we starting blogging about life at Wikia, the Wikia office has changed dramatically. We've doubled in size and have overhauled our space. With so much going on, we haven't had time to show off our new office! So I thought for this month it would be fun to give a general overview of life at Wikia's HQ.
Where is the Wikia office?
Did you know that Wikia has two offices? Our Headquarters is located in beautiful San Francisco, California. We also have an awesome office in Poznan, Poland that foucuses primarily on Engineering. You can read more about a Day in the Life at the Poznan office here. From the windows of our San Francisco office you can see a few landmarks including the Bay Bridge, AT&T Park (Home of the 2012 World Series Camps the San Francisco Giants!) and Sutro Tower.
A Typical Day
Each day we're greeted by our brand new Wikia sign. The letter K flashes between each color of our 3 major hubs: Gaming, Entertainment and Lifestyle. The entrance has comfy chairs where folks can kick back and relax during the day and enjoy a view of the Bay Bridge.
From there, we enter the main room. Wikia is a open office, so no cubicles here! Each team is divided up in to a group of desks we lovingly call pods. HR, sales, marketing, community, product, design and engineering all have their own respective pods. Even our CEO, Craig Palmer, hangs out in a pod.
Rooms, Rooms, Rooms!
We have 12 conference rooms, all of which have been named after wikis. Some of our favorite rooms include Call of Duty, Skyrim and Equestria (after the MLP Wiki). Each room features a screensaver of images from that room's theme as well as images from the wiki. We also have two small private semi-soundproof "phone booths" where people can work in isolation or take important phone calls. In addition, we have an awesome informal meeting area called the "bracket booths." Here, employees can work in more quiet setting or host an informal meeting or collaborate on work.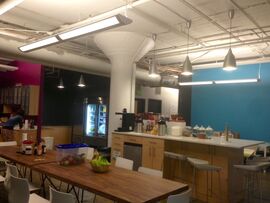 New Kitchen!
Some of you may remember my picture of our infamous snack closet. While we still have the snack closet, Wikia has gone in to healthy mode and has eliminated all processed sugars from the office. We have healthy snack hour every day at 3pm where fresh treats and veggies are served. Our fridge has been super-sized to accomodate ALL of the lunch treats. Nom nom nom!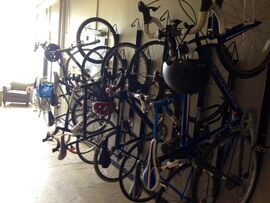 Extras
San Francisco is a super bike friendly city, so many people ride their bike in to work every day. We have fun events, like our recent Pi Day Pie Eating Contest, and weekly yoga classes. If you've been following our staff blog, you may know that our office is also pet friendly! Have you met Daisy or Falkor yet?
So, what do you think of our new office? Think we should add or change anything about it? Let us know in the comments section below! Feel free to submit requests for other teams (or people), you would like us to highlight in this blog series. :)