Here at Wikia we're all about community, which is why we have not one but two teams devoted to it! Previously in A Day in the Life, we covered the Community Support team and how they assist you with any questions that you may have about your wiki. Today I'm proud to introduce the
Community Development team
(or ComDev), who works hard in serving the community from a different angle.
Who are they?
The Community Development team is primarily based out of San Francisco. They work on taking requests to help improve wikis by creating content and assisting with engagement. This could be anything from helping set up a Twitter account to creating a walkthrough for the latest game. You may recognize one of the following members of the team who may have put up a skin, or started a contest on your wiki. The team includes: JAlbor, JoePlay, Kate.moon, MarkvA, Porterfield, Soldierscuzzy, Wagnike2, XD1 and Xean. Feel free to take a look at some of the examples of their work!
Hour by Hour
9am - The team typically starts their day off by working on news requests for various wikis. This can include breaking news on the latest game updates, new seasons or just the topic in general. A good example is news like a possible sequel for a hit movie .
10am - Around this time is the weekly ComDev Team Meeting. The team filters into a conference room where they Skype with offsite team members. (Did you know that MarkvA helps us all the way from the Netherlands?) At the team meeting, each member goes over what they've been working on this week and what's coming up. Topics also include what's cool and important in our wiki communities. This week the team is all abuzz for Diablo 3. The meeting ends with dividing up tasks for the week.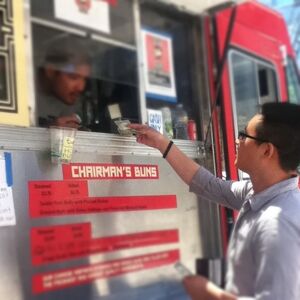 11am - After the meeting, team members begin to work on requests. This may include working on a starter guide for a game that's recently been released or making sure the Game of Thrones wiki is all set for the next new episode by recapping the previous one .
12pm - As noon rolls around they begin to stalk their favorite food trucks for lunch. On a typical day anywhere from 2-3 are parked outside the Wikia office. It's important to know when the best ones will be stationed close by. Team favorites include Chairman Bao and 3-SUM Eats. The team makes an effort to keep the Food Truck Wiki updated with reviews as new trucks rotate in and out.
1pm - After everyone is filled to the brim with delicious street food, the team begins to work on requests from the community. These are always their favorite to work on, so please feel free to add your own wiki to the list if you'd like assistance. (And remember to read through the criteria first!)
2pm - Throughout the day you may see ComDev outside of Wikia working on making sure certain wikis' Facebook page and Twitter accounts are up to date. Current examples include Vampire Diaries , Avatar and Hunger Games, DOTA , League of Legends and Mass Effect which are all updated by us.
4pm - Towards the end of the day, team members like to hang out in the Wikia Video Games "Lab." Bob and Jorge concentrate on conquering Max Payne 3, Diablo 3 or Prototype 2. This is to help them know what is the best content to add to those wikis, as well as help them create game guides and walkthroughs. (Plus who doesn't want to play videos games at work?)
All in all, the Community Development team loves their work because they get to write about games and TV shows, as well as help out users who love the same stuff they do. :)
Want to stay up to date on the latest feature releases and news from FANDOM?
Click here to follow this blog.
Interested in learning more about community management on FANDOM?
Click here to view our community management blog.