Greetings Wikians!
Have you ever wondered what goes on inside the Wikia office? If so, then you're in luck! Today marks the first part of our new series entitled "A Day in the Life" which will follow various staff members and teams at Wikia for an entire day. We'll introduce you to staff members, and tell you what they work on in a typical day. This month we begin with the Community Support Team.
Who are they?
The Community Support Team stretches not only across the country, but around the globe with team members located on both the east and west coast, and several countries (Germany, Poland, Spain and Australia, just to name a few). They directly support users via email, forums, chat, talk pages, webinars and blog posts. By collecting feedback and input from the community, they are then able to relay user queries as well as gather and report feedback to other team's within Wikia.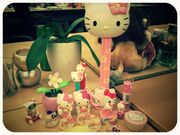 A Typical Day
8:30am - Sannse is the first one of the team to arrive at the office bright and early. Her sea monkeys and extensive collection of Hello Kitty items keeps her company as she checks in on the latest news from the community. Once the rest of the team arrives, we quickly review changes from the previous night as we collect feedback and investigate any bugs that may have been reported.
10:15am - Dopp posts her technical update for the week, informing the community of the changes they will see with Wednesday's code release.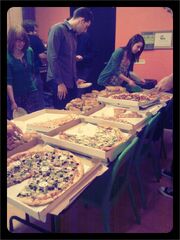 11:00am - As the majority of the Special:Contact tickets are answered, TimQ and Brandon get in a competition to see who can answer the most. As a team, we answer an average of 80 emails a day just from Special:Contact. The rest of us look on with mild amusement while we work on separate projects.
12:00pm - Lunch time! Once a month, the entire staff eat together for a company meeting. Pizza and salad are served, as we fight over who gets to the best seats in the house. The meeting is run by our fearless leader Craig, and includes presentations on accomplishments from the past few weeks, recent company news, project updates and introduction of new staff members.
2:00pm
- The SF Community Team shuffles in to a conference team to hold their weekly meeting. Offsite staff members
video conference in to share what they've been working on for the past week, and what we'll be focusing on for the current week.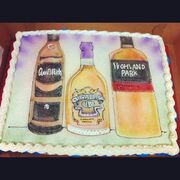 3:00pm - To our surprise, a cake has appeared in the kitchen in honor of the winning team from Wikia Day, Whiskeypedia. (Note: To the dismay of some staff members the cake does not actually contain whiskey.)
4:00pm - The team continues their individual tasks, including answering email, hanging out on Community Central chat and preparing for upcoming projects including webinars, how-to videos and other special projects.
6:30pm- As the day starts to slow down, community team members begin to trickle out of the office.
And there you have it! A typical day for the Community Support team at Wikia. What do you think? We'd love to hear your feedback in the comments! Also, please feel free to submit requests for other teams (or people), you would like us to highlight in this new blog series.
Want to stay up to date on the latest feature releases and news from FANDOM?
Click here to follow this blog.
Interested in learning more about community management on FANDOM?
Click here to view our community management blog.