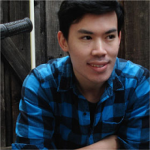 Greetings Wikians!
After a brief hiatus, our "A Day in the Life of Wikia" staff series has returned! Today I chatted with one of our Product Managers, Stanley Tran who leads our Mobile team.
What is a Product Manager?
A Product Manager is a member of our product team who works to create new features as well as improve existing ones. Product Managers work with every single team within Wikia to ensure that everything is running smoothly. We have 4 major product teams teams, each specializing in their own field. Here, we'll be focusing on Mobile.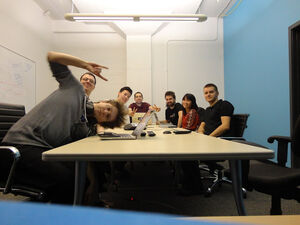 Mobile
The Mobile team focuses on expanding and optimizing the product line for the rapidly growing Mobile user base (both the mobile web and apps). The team also builds APIs to encourage third party developers to use Wikia content to build other applications
At it's core, there are 7 people who focus on the the Mobile Team:  4 developers, 1 Quality Assurance (or QA), 1 designer and 1 product manager. The developers on the team all work out of our office in Poznan, Poland which you can read about in A Day in the Life of Engineering . 
A Typical Day
6:30am: Stanley wakes up to check email to see if the code release went well. Our releases are pushed out on Wednesdays during the day when the Poznan office is in, meaning very early in the morning for those in the San Francisco Office. He immediately replies to anything urgent.
8:30am: After commuting in, Stanley arrives at work and grabs a Coke (which he admits is unhealthy) before frantically running into the Mobile Daily Team meeting, in which we discuss what the team worked on in the day and if there are any blockers that need to be removed.
9:00am: After the team meeting, he chats with the developer team and designer to brainstorm ideas for the next product (this includes crazy whiteboard drawings).
10:00am: Check-in time! Stanley reviews Google Analytics for Mobile Web Page View stats (try to make connections with releases or other factors to figure out the cause of peaks and valleys) and clicktracking to see how existing products can be improved. He also checks the App Store and Google Play install activity and feedback.
11:00am: Time to review Mobile bug reports and speak with the Community Lead about user feedback, specifically about the most recent code release. For the Mobile Team, it often requires having multiple iOS and Android devices out with various OS versions to test bugs.
1:30pm: After a quick bite, Stanley runs a stakeholder meeting to gather requirements for a product that will be built within the next couple of months (stakeholders include Users, Developers, Designers, other Product Managers, Community Support, Community Development, Sales, Advertisers, Marketing, and more).
2:30pm: Touch base with Designer to check status on design deliverables for upcoming products and to iterate on stakeholder feedback.
4:00pm: Have a scheduled chat with Community Council (with support from Sean and Sarah Manley) about wishes and hopes for Wikia's mobile web and apps.
5:00pm: Stanley does some R&D to look up the inspirational bookmarks from the morning commute and questions brought up in the brainstorming session after the Mobile Daily Meeting.
6:00pm: Based on the day's findings through analyzing data, prioritizing bugs, listening to user feedback, and gathering requirements, he looks at the Mobile Product Roadmap and make note of necessary pipeline adjustments to propose to the team.
7:15pm: Nap on the commute home. The next day will likely be completely different.

While it was a busy day, Stanley happily states that his favorite part of job is being able to interact with so many different people, in and outside of the company. Let's thanks Stanley for filling us in, especially with his busy schedule! If the community has questions for Stanley or a request for a future Day in the Life interview, please let us know in the comments section.
Want to receive updates on the latest Staff blog posts? Then click here to follow this blog.