Greetings Wikians! Trellar here for another thrilling chapter of "A Day in the Life of Wikia Staff"! Many of you follow us on Facebook and Twitter, reaching out with questions and pointing us to your favorite wikis. However, did you ever wonder who's behind the account? Well, fear not, all of your questions will be answered today as we follow a day in the life of our Social Media Strategist, Nate!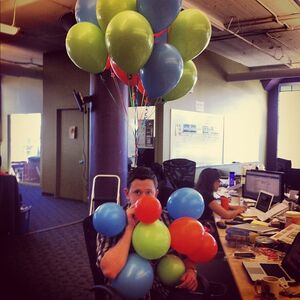 What does he do?
Nate is responsible for managing the majority of our social media accounts. This includes our main Twitter account as well as our two specialized accounts: Wikia Games, and Wikia Entertainment. In addition, he also manages the corresponding Facebook pages for Wikia , Wikia Games and Wikia Entertainment, where he often runs contests and giveaways. Nate also reviews creative for marketing, prepares the marketing calendar so that the rest of the team is on top of what's coming next, and negotiates with vendors to make sure upcoming events (like our Comic-Con party) go off without a hitch! Feel free to say hello @wikia or on Facebook!
Hour by Hour
9am - After grabbing a coffee, Nate sits down to check out the various Wikia brand pages for comments. This includes Wikia, Wikia Games, and Wikia Entertainment. He keeps an eye out for people who are reaching out to give their wiki a shout-out. For example we recently gave a shout out to Cook Me Plox for reaching over 215,000 edits on the RuneScape Wiki! Do you think your wiki has done something awesome and wants to be recognized? Leave a message below in the comments or on our Facebook page.
While Special:Contact is the best way to report a problem on the site, sometimes people choose to tweet us with problems that they may be encountering.
10am - As the day ramps up, we head to the weekly meeting with the Marketing Team. The Marketing Team is a very diverse group of people all working on special projects. Your wiki may have been in contact with Peter, Eric Moro or George who work on our Video Games and Entertainment hubs.
Noon - Lunch time! The team heads off to their favorite place to eat, Darwin! Darwin is a little cafe right behind the Wikia office which serves only a couple of small items a day. Rule of thumb is that you need to get there early or suffer the consequences of waiting in line for the rest of your lunch break. Mind you, the wait is always worth it.
1pm - Many of you are aware that Wikia will be hosting a party at Comic Con this year! Nate has been tasked with helping to organize the event, which involves a lot of preparation and many emails and phone calls. Earlier we asked you if you were able to make it to San Diego for the event. We're busy confirming all of our guests and passing out secret passwords and codes that can get you access in to the party. In addition he's also planning a few meetups outside of the party, as well as swag to give out to all the attendees.
3pm - We recently started the Wikia Bookclub! Nate tweets out to remind people to sign up and "like" our Facebook page for a chance to win a kindle. This month the bookclub is reading Harry Potter. After reading certain chapters everyone will be invited to a special chat to discuss the book with all of the fans.
5pm - As the day wraps up, Nate finishes off the day by doing one final check of the Twitter and Facebook accounts. Have a question for Nate about Social Media or Comic-Con? Looking for a shout-out for your wiki? Leave a message here or tweet at him!
Want to receive updates on the latest Staff blog posts? Then click here to follow this blog.