Hi Wikia!
I'm excited to inform you about design updates you may have noticed around the site in the past couple of weeks. We have now released a brand new Wikia logo, applied new colors and creatives.
You might wonder why? The short story: we thought it was time to update our look. We want a fresh way to help the world get to know Wikia, and understand just how unique and amazing the content as well as people on Wikia are.
Process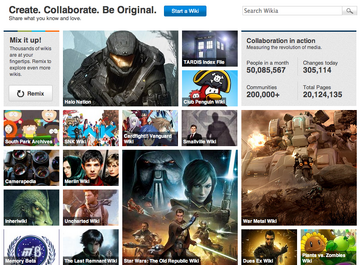 How did we go about updating our look? A team made up of members of all departments within Wikia came together to talk about what Wikia is and what we stand for. One of the themes that emerged was the interconnectedness of our communities. As we explored this idea, the visual of a fractal emerged - where nodes of content and people are woven together by lines to represent connections and sharing.
What you will see
You will see the Wikia logo has been updated across the network, along with all of our social media accounts. We also redesigned our home page. The new design is all about promoting popular, new and developing wiki communities..
You will also see that we've also redesigned our hub pages: Video Games, Entertainment and Lifestyle. The colors convey the wide variety of topics: green is for video games, blue for entertainment, and that bright poppy color is for lifestyle.
Moving Forward
We updated the hubs and homepage to make it easier to explore Wikia and discover interesting wikis. Did you know you can suggest videos, blog posts and recommend articles you think would be great on one of the hub pages? We'd love to see your recommendations! To recommend articles or videos, go to one of the hub pages: Lifestyle, Video Games, or Entertainment, and look for the 'suggest a video' or 'recommend an article' button.
Our goal throughout this update is to showcase the great content and communities on Wikia as well as update our look. Kind of like getting a new haircut just in time for spring.
Want to stay up to date on the latest feature releases and news from FANDOM?
Click here to follow this blog.
Interested in learning more about community management on FANDOM?
Click here to view our community management blog.