Greetings fellow Wikians and readers, I am Ultimate Dark Carnage but I go by UDC. I am the head administrator of the web development database known as HTML & CSS Wiki. The wiki is not really new because it was created sometime around February 2010. The original founder and admins (excluding myself considering that I am the newest) have been either semi-active or inactive since 2014 (meaning that some of the admins may edit sporadically). Then, I have adopted the wiki around 2014-2015 and I have been trying to update the information ever since. Most of the pages are have information that is considered outdated at this point. For example, Internet Explorer has been replaced by Microsoft Edge. That hasn't been documented in the wiki itself. I am also planning on adding JavaScript and SVG-related articles to the wiki. I am looking for people to help make the wiki better and update the pages.
Description
HTML & CSS Wiki is a database dedicated to, well, HTML & CSS. In fact, it is one of the biggest (if not, the biggest) databases for web development. It contains the basics of those two languages, including the syntax, the origin, and the purpose. It's getting better in terms of aesthetics, however I am still working on fixing a few flaws.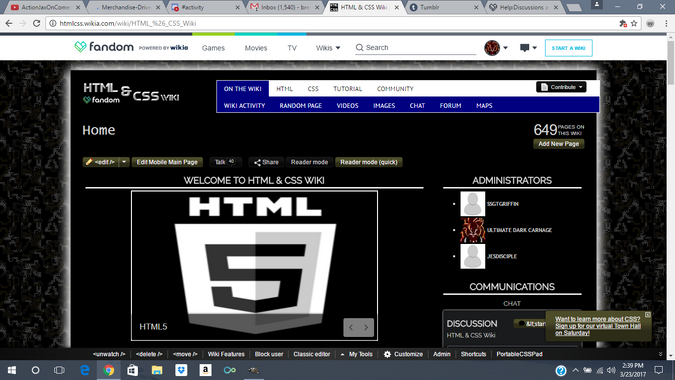 Updates
I made several (somewhat) significant changes to the wiki in question. If you want to know what those changes are, check below.
I created a completely new wordmark for the wiki (the old one was bland).
I have redesigned the main page in order for it to be more comprehensive and interactive. It has a slideshow, a Discord box, a chat box, a new navigation section (albeit incomplete), and a news section (also incomplete).
Discussions have been enabled for the Wiki along with a few other features such as Chat.

In regards to Chat, I have added a theme selector (which is being tested at the moment).

I also changed the design of the wiki using CSS and JavaScript.
I have a few more features that I am looking to add to the wiki.
Conclusion
This is a pretty decent wiki and a major one too. I am trying to expand it and I need your help with the wiki. It is very low on activity right now. If you guys can contribute, I would appreciate it a lot. You can give the wiki a review too if you want. I am looking for qualified admins, moderators, rollbacks, and code editors.
The link to the wiki: http://htmlcss.wikia.com/