Hello everyone! My name is Valentin girl, and I would like to share informations about Inkagames English Wiki to you !
Let's get to the beginning: Inkagames English Wiki came from a game/s called Inkagames . 
So there are games on the internet. What's the point?
The point is, that they (some) come from Saw movies. There is a villain named Pigsaw (in Saw there is Jigsaw) who kidnap beloved heroes - from stars, presidents, detectives and even cartoons - and makes them play his wacky game. But, it isn't easy. The hero has to beat the villains that are in rooms, some people (characters) help the hero to get his/her freedom, and there are even Inkagame Winners. These winners are also helpers to the hero - they come in the game because they've won the Inkagame competition (if you want to know more, please comment bellow or go on Facebook and write Inkagames, and like it). And the games have even funny parts that can make you laugh.
Alright, I get it. So there are just saw games.
No, they are not just saw games. There are also adventure games, mini games, escapes, Simpson games, even some Obama games - yes the president of USA is in the games to (and they are awsome).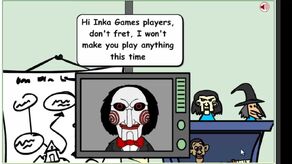 Okay. Can we go to the Wiki now?
Oh yeah. Okay, so in the Wiki we just add characters that are in all of the games, add games + walkthrough videos, pictures... well eveything you add to a Wiki. I would also like to make Buildings, Items, Maps and other things to the Wiki..... but there is a problem. We don't have contributers there. There are only around 3, including me. I would really like that fans and other people that like the games, have or haven't played them (if you did not, try them) and to help the Wiki. I also have made the adoption for the Wiki, because the Founder is long gone and doesn't come to the Wiki, and I have been promoted to a Admin, so I made lots of changes there. With the help of contributors, we can make the Wiki fantastic, put polls, put facebook post of these games etc... I am not well with making these things, but I try them out. 
Interesting. But is there anything else you want to do?
Well.... I had an idea, that I would have somesort of an interview with the the team that creates these games and add them to the Wiki, so fans would know who they are, why did they made Inkagames and lots of other questions. 
Mhm. Okay, so I would say that I am just a normal user who wants to try out a game. What is the hottest/the best game now?
I would say that all the games are the best, but what I see in the comments, I think that Fernanfloo and Obama in the Dark (1,2,3) are the hottest. Try a game and tell me what you think about it.
Do you have anything else to say to the public?
I would just like to say, that I hope you can join me and that we can make Inkagames English Wiki be even better then ever.
Thank you!