Hello welcome to my blog this is my first time bloging here. But I have bloged at other cool sites.
So lets get to the topic.
'Pugs are cute and lovable they are my opinion one of the top 10 dogs perfect for a family.Now pugs are not perfect like pug are supper loud with snorting, and pugs don't have dog like tails but their still cute in many ways.'                                                       
'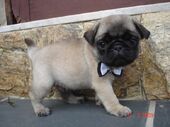 '
Here are two pugs the one on the left is a baby pug and the one on the right is an adult pug.
Also when winter comes up pugs love the snow! But when you get to summer pugs like to stay inside. But I realize that some of you reading this don't get snow. Don't worry I feel your pain I moved around alot and some of the places I moved to didn't have snow. But NEVER leave a pug outside! You can kill it because with the oils it has in its body make the pug to hot. So keep a pug nice and cool the best you can.
                                                                                    Here is something cool this crazy pug just had its first
                                                                                    momment in the ball pit of madness!