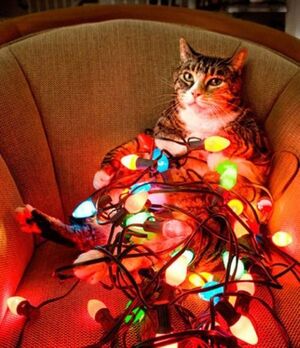 'Tis the Season to deck out your wiki in Holiday awesomeness. Why should your house get all the attention? I mean, I probably spend more time on Wikis than I do in my house, and decorating a wiki is way less dangerous than decorating IRL!
There are so many great times of year to dress up a wiki - from holidays, to seasons, to topic specific events (new season, game, etc). Back in October we hosted a Halloween Costume Contest,and I've seen wikis getting decked out in hearts for Valentine's Day, or going green for St. Patrick's Day. Having a fun design that goes with the season is a nice way to celebrate, get people excited, and offer something fun to the folks visiting your wiki.
So, how can you carry this out on your wiki? I have a few suggestions below.
Create a themed background
Get creative and give your wiki a background to match the season. For December maybe something with snowflakes or Santa hats would work for your wiki? And why stop there? Open the design up to your community, ask for everyone to submit their best background design, and then host a vote, or put up a new user-created background each day of the month.
Give your Wordmark the holiday treatment
Some wikis change up their wordmark to celebrate their Wikia Birthday, but why stop there? Give your wiki a wordmark themed for the season.
What else...
We know there are tons of other ways to get your wiki ready for every season, what suggestions do you have for sprucing up a wiki? Let us know what your community does or has done in the past...add a screen shot too if you can!
Want to stay up to date on the latest feature releases and news from FANDOM?
Click here to follow this blog.
Interested in learning more about community management on FANDOM?
Click here to view our community management blog.