One of the most common questions we get here at Wikia is, how do I promote my wiki? We know that wikis do better with more contributors, so today I am going to offer you a few ways you can get the word out about your wiki on Wikia. We know you'll have even more ideas, so please share them with us in the comments below.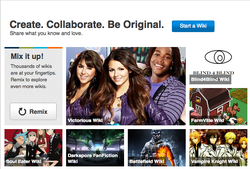 The Wikia home page is a great way to get your community noticed by a wide range of people. From everyday editors, to newbies just finding Wikia. Any admin can go to Special:Promote on their wiki, fill out the sections, and have their wiki added to the growing list of communities being highlighted on Wikia.com.
For more information on how to do this visit the help page.
Hub Pages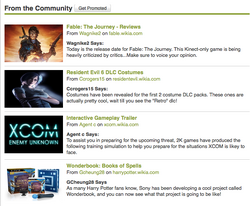 "Get promoted" in the Community section on hub pages. This is your opportunity to let everyone at Wikia know about the exciting things happening in your community. Each hub page (Entertainment, Video Games, Lifestyle) has their own "Get promoted" option, so you can promote your news to the people who will be most interested in it.
Spotlights
Spotlights are located at the bottom of every page across Wikia! They're a way for interesting communities to be highilighted and help people discover new wikis (I had no idea we had a Real Life Superheroes Wiki until I saw the spotlight picture here). Requesting a spotlight for your wiki is a great way to show it off to everyone on Wikia, and can help you to attract new editors.
Request a spotlight for your wiki today!

Affiliates
On Wikia we have lots of wikis with similar topics. A great way to promote your wiki is to pair up with wikis who are similar to yours by setting up affiliations. What does that mean? Affliate wikis share links with each other, often in a webring or list their on their wiki. Once Upon a Time Wiki features their related ABC network affiliates (666 Park Avenue Wiki and Revenge Wiki) on their mainpage while Animanga Wiki has a webring that spotlights different anime and manga wikis monthly. Sharing links is a great way to not only show your wiki to new people, but also to help your SEO as well. Don't feel like link sharing should stop at the edge of Wikia, reach out to other fan sites around the internet and see if they want to affiliate with you as well.


These are just some of the ways you can help get the word out about your wiki. Are there other things you've done to promote your wiki on or off Wikia? Have something that worked really well? Make sure and share your thoughts in the comments below so others can learn from your success.
Want to receive updates on the latest Staff blog posts? Then click here to follow this blog.