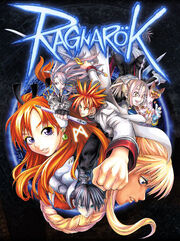 Hi, I'm
ZeroTigress
, current admin of the Ragnarök Wiki. What is the Ragnarök Wiki, you ask?
The Ragnarök Wiki is a wiki centered on archiving the entire Ragnarök franchise, which started with the Korean manhwa written by Lee Myung-Jin. The manhwa spawned 2 online games and a multitude of spin-offs and merchandise. What we need help most with the wiki are with information about the spin-offs and people to manage the German, Portuguese, and Japanese versions of the wiki. We welcome anyone to come join the community as long as they adhere to the wiki's editing policies and are respectful to their fellow contributors. If you are unable to write articles, that's fine! We could use translators to translate articles on the Ragnarök Wiki into German, Portuguese, and Japanese for those versions of the wiki.
Ad blocker interference detected!
Wikia is a free-to-use site that makes money from advertising. We have a modified experience for viewers using ad blockers

Wikia is not accessible if you've made further modifications. Remove the custom ad blocker rule(s) and the page will load as expected.