Hey everyone, Zmario here with the latest creation of mine, the Kuu Kuu Harajuku Wiki From the creative genius of Gwen Stefani comes a new animated series on Nickelodeon.
What's it about?
Glad you asked! Kuu Kuu Harajuku follows the everyday lives of HJ5, a band of girls who like to sing and dance and perform for others! There's G (she's the leader and based on Gwen Stefani herself), Angel (the happy-go-lucky one), Love (the incredibly smart one), Music (the incredibly sassy one), and Baby (the extremely adorable one). Managed by the dimwitted Rudy, HJ5 has to have an unlucky streak when it comes to performing: something bad happens moments before the concert even begins! Despite this, the girls learn the value of friendship and to appreciate the different qualities each of them possess.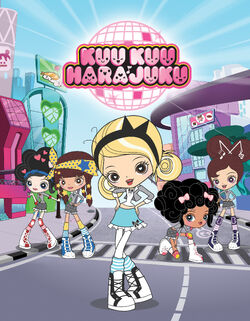 On the Wiki
The wiki is only a few days old, however, I've manage to have some free time to work on it, and a good portion has been completed already; such as revamping the main page, and creating pages for episodes and characters. There's still a lot more work to be done! If anyone would like to come help behind the scenes with template creation and ideas for customization please don't hesitate to drop me a message (I may not respond right away)!
Parting Thoughts
I understand this show might not be everyone's cup of tea (I'm surprised I even like it myself!) but if this seems like something you're interested in, give the show a chance you just may like it. Even stop by the wiki every now and then just to say "hello"! Thanks for reading! Zmario